Latest Happenings
Posted: Oct 11, 2021
The live music scene in Portland is cooling off from its rebirth earlier this year. Now that the weather has changed, many of the nightclub gigs that had been staged outdoors are being moved indoors. This is a necessity in our sometimes rainy locale. The live music audience seems reluctant to move indoors though. This should settle down in the next decade or so. I hope. Sigh.
Here is a recent photo of my main group the Jonathan Smith Trio.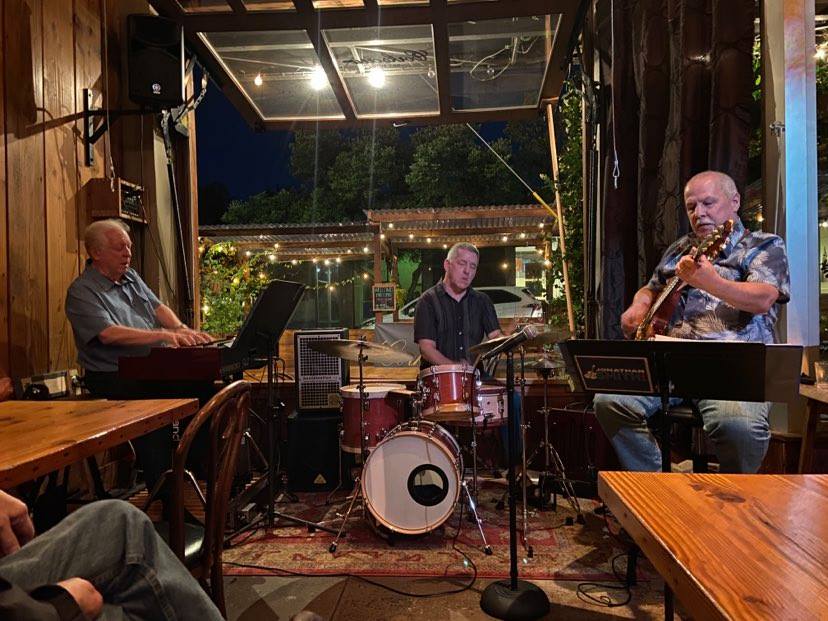 Steve (organ), David Burrow (drums), Jonathan Smith (guitar) at the Corkscrew Wine Bar
I meant to get this post up sooner but I ran into a coding error on this page and it took awhile to resolve. The HTML gods seem to be happy now.
---
Posted: May 30, 2021
Things are beginning to thaw in the local music scene. There have been lots of rehearsals lately and even some gigs to post on the calendar! Performing music in public with friends is a huge part of my life and the past 15 months have truly been an ordeal. Thank goodness that all seems to be returning to normal, now that Covid is being beaten back.
I rehearsed a bit with a new band, the Meter Readers. This is a project of drummer David Nuding (fellow Berklee alumnus) and includes some funky New Orleans music. I assume that many of you know that the band name comes from the New Orleans band called the Meters. There is also some music from Galactic in the book. This bodes well for the future. I love music from NOLA and look forward to playing a lot of it in the near future.
Be safe and take care.
---
Posted: Mar 5, 2021
I am starting to contact radio stations about the new CD. It's been awhile since I've done this so there's some rust to deal with. I had a rude awakening when I found that a few of the links from this site no longer worked. Ouch! Happily, Google was able to point me in the right direction and get those issues resolved.
Several of the songs on Used To Be Blues incorporated orchestral colors from a London-based company called Spitfire Audio. I was amazed at how much better sounding these samples were than what I've heard and used before. The last song on the project, Look Up! made extensive use of those orchestral sounds. My youngest son, Dylan, was a huge fan of the band Metallica and loved the recording they made with the San Francisco Symphony. He was excited when I showed him what I was going to do in that song. Sadly, Dylan died unexpectedly before I could complete the song. The video I made for the title song shows his beloved Toyota Celica at the very end (in case you were wondering what that image was about).
---
Posted: Jan 8, 2021
Almost two years since my last post? Good grief! There's been lots of news everywhere, here's my little contribution to the noise level.
I am releasing two digital download projects this month. The first is a recording that I produced in 1996 of a band from Spokane, WA called Fuego. Fuego was led by Steve Maurer (trumpet) and Terri Cooley (alto saxophone). The original release was on cassette only and was never made available in digital download form. A lot has changed since the first release and I finally had the songs re-mastered (from the original 1/4" analog master tapes) by Dana White of Specialized Mastering. Dana did a great job and I really appreciate his efforts.
Dead Aunt Thelma's Studio did the analog tape to digital format transfer. Thelma's is a Portland-area treasure, everybody has recorded there. They've been doing great work for decades.
At this time the songs are being distributed world-wide through CDBaby and should soon (end of January 2021?) be available at all the usual subjects (iTunes, etc).
Fuego was a great latin-jazz band that was active for many years in the Spokane, WA area. You should check out their music when you have a chance. I am glad that I can contribute to keeping their legacy alive.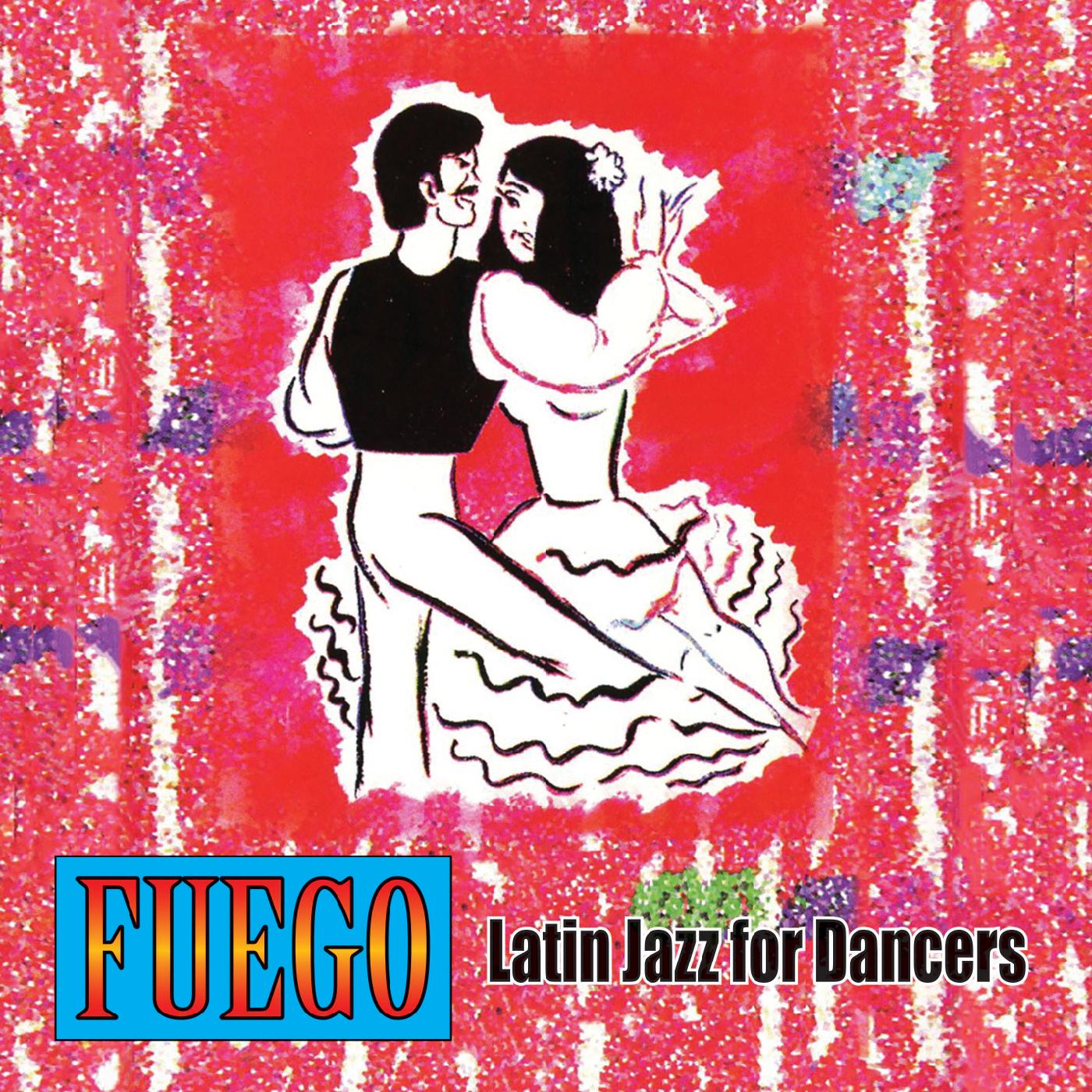 I am also in the process of releasing my own recording "Used To Be Blues". This one is a pandemic special, I have been staying home (like most folks) and decided to get back to composing. At this time the music is all done but the artwork is not quite finished. Trumpet player/photographer Jon Deshler is supplying one of his stunning photographs and is also doing the layout for the cover. I will post the results as soon as they are done. I really appreciate his expertise. Jon is a very good trumpet/flugelhornist who lives in the Portland, OR area. He is from Los Angeles and has done some major work as both a musician and a photographer.
I put a lot of work and time into this recording and am very happy with the results. Dana White also mastered the songs. Another great effort by him.
There is a major backstory about one of these songs and I'll tell all in my next update. Please stay tuned and stay safe.
---
Posted: Feb 23, 2019
Once again I realize that it's been too long since I updated some of the comings and goings here in the Portland, OR area.
Before I forget, there are some new videos posted on my Videos page. These were done earlier this month (Feb, 2019) at the Corkscrew Wine Bar with the Jonathan Smith Trio.
There have been a lot of performances, all local, since the last time I added any text here. The shcedule has mostly consisted of gigs with Johanthan Smith and Adlai Alexander. Both groups are a lot of fun and rewarding musically and personally. I've also begun to play piano and trumpet with the Loyd Love Coalition. So far there has only been one scheduling collision with the three groups. Everybody is understanding of my desire to perform in as many different situations as possible. Being retired from my day job situation frees up a lot more time to practice, rehearse and play gigs! Maybe someday I'll get it together musically...
Kathleen and I are going to hear Patti LaBelle this coming week. We heard here live several years ago and were really impressed with her show. She brings 100% to the audience and really knows how to perform and entertain. I'm looking forward to the show.
---
Posted: May 5, 2018
Wow, it's been a long time since I've posted anything new. There have been a steady stream of gigs, rehearsals, lessons and life events. Let's see if I can recount some of them.
I just played organ at the Newport Performing Arts Center last Sunday with the Jonathan Smith Trio. Newport is a beautiful town on the central Oregon coast. It's an inspiration just to be there. The JST opened for pianist George Colligan's trio. It was one of the few gigs that we've played in a concert-like setting and we put some real time into rehearsing a solid 45 minute show. It was well-received and fun to experience playing for a crowd of listeners. Hopefully we'll get to do that again. George and his trio did a great job and he was impressive as always. There are many good reasons why he has a lot of CD's in release and spends part of each year playing with A-list jazz artists.
I'm sad to report that my friend Bill Harris just died. He was a great alto saxophonist, fellow Berklee student, and a great source of wisdom about life and music. We will all miss him. I am glad to have been a friend of his and feel like I'm a better person and musician for that.
I hope that you enjoy the upcoming months of nice weather. I know that I plan to do so.
---
Posted: October 17, 2016
It's fall and Portland State U. has started. The Concert Band is back and Jeffrey Payton is conducting again. The new material is challenging and forcing me to spend more time with the trumpet. I feel that this will be a great year.
My gigs with guitarist Jonathan Smith are really increasing in frequency and satisfaction. We have been rehearsing on a regular basis and Johathan has been bringing lots of new material to the table. We are putting together a serious amount of classic Blue Note records Organ Trio songs. Not just the classic funk/jazz tunes but album cuts by artists such at Tine Brooks are populating the band's songbook. We've also added some pop/fusion songs that help the band connect with the audience. I post the schedule on my home page. The dates have been increasing and that seems to be happening with the expansion of our repertoire.
We are getting a lot of rainfall this fall. A week ago we played outdoors (but under a canopy) at the Milwaukee Farmer's Market. Soggy but fun was the consensus.
Take care and enjoy the fall sports.
---
Posted: July 31, 2016
I had to make a quick trip to Spokane, WA last week to attend a Celebration of Life/jam session for my friend Teretha G. "Terri" Cooley.

Terri was a great woodwind player who reigned over the music world in Spokane for many years. She played alto saxophone, clarinet, flute, recorder and sang. All at a very high level. I had the pleasure of playing many gigs with her during my time in Spokane. It was always a treat to share the bandstand with her. The music community in Spokane will miss Terri greatly. She would have been pleased with the turnout for her event. Terri's soulmate Steve Maurer led the session at the Hennessey Funeral Home. Their friend and frequent collaborator bassist Brian Flick co-ordinated the event. There were many fellow musicians present. Plans are already in place to repeat the Celebration next year around the one year anniversary of her passing. I'll be there.
---
Posted: May 11, 2016
The Portland State Concert Band school year is winding down. I can't believe that I have survived for almost three quarters! Playing the contempory music has been a serious challenge. It has driven home how important it is to work on the basics of trumpet playing. All the things that I should have been addressing forty years ago (to be precise). In particular, much of the serious literature has the trumpets playing "fanfare" type figures. Quick and clean articulation. Something that I managed to avoid since I first started playing the trumpet. I've got plenty to work on this summer.
Kathleen and I heard Joey DeFrancesco's trio last week at the Aladdin Theater. They were outstanding. Joey played amazingly (no surpise there) and he also played some nice electric piano, muted trumpet and sang too! His singing and trumpet playing were much stronger than I remembered. He was very well received by the audience.
The local performance scene is warming up a bit. I've noticed an increase in the amount of gigs. Playing regularly with two bands helps too. To date there have been no schedule conflicts. There have even been a couple of subbing gigs from Wade Kirtley and Laura Cunard.
---
Posted: Jamuary 4, 2016
Happy New Year! I hope that 2015 was productive for you. It certainly kept me busy. I finished my first quarter playing trumpet with the Portland State Univ Concert Band. Playing written parts instead of improvising really points up your areas that require more attention. I have been able to avoid spending too much effort on articulation on the trumpet. The three months with the concert band showed me how much time I need to spend improving that part of my technique. That has moved way up my To-Do list for 2016.
We lost a very good jam session last week. Laura Cunard's Tuesday night session at Coyote's in Hillsboro has ended after four+ years. A lot of fun was had there. It's a great sounding room. I got to play with Laura, Bill Harris, Evan McHill, and lots of other West Side musicians.
Over the Christmas break I decided to update my website again. I had great plans to bring all the HTML code into the 21st century. I was able to fix some things but the larger re-write will have to wait until I have much more time to spend on that project.
I'm still waiting to see some reviews on the new CD. Not a peep yet. I am learning why nobody releases new product in December. Maybe I'll hear something by the end of February.
I was really sad to see that Allan Toussaint passed away recently. I loved that man's music. The songs, the piano playing, the voice and the sense of wonderment were all as good as you can get. I've been listening to his CD "Songbook" that is simply voice and piano and great tunes. Everybody should own it. Don't ask to borrow my copy!
Let's get moving on 2016 and make the world a better place (to paraphrase "Yes We Can Can" by the Pointer Sisters).
---
Posted: October 17, 2015
A lot has happened since my last post. I just finished playing four gigs in one week, a new record for me! I was fortunate enough to play Hammond with Adlai Alexander's Trio and the Jonathan Smith Trio. All the dates were fun and one was outdoors at a Farmer's Market. That one was especially rewarding for me as there were a lot of children there. They were jumping up and down and dancing to blues/jazz sounds of Jonathan's band.
Of course, in the middle of all this new activity I was summoned for Jury Duty. That lasted two days and gave me more appreciation for how quiet my life usually is. Some folks just seem to lead "train-wreck" lives. Sadly.
I started playing trumpet with the Portland State Univ. Concert Band. They are led by Jeffrey Peyton.They meet three days a week and play some very challenging music. I view that activity as a real challenge and am truly grateful for the opportunity to participate. At this rate, if I live long enough I may eventually become an adequate trumpet player. I'm still studying with David Bamonte. In fact, he was the one who encouraged me to join the PSU Concert Band. I hope that he's not regretting that decision!
The CD (Follow The Sunset) is almost done. I have been mixing and working to make this my most polished recording to date. I thought that I had a finished product and then I asked Hershel Yatovitz for a critique. He liked the music but not the mixes. He very thoughtfully and clearly explained his issues with what he heard. I felt like I learned more in that two hour session than I had in the previous five years. I believe that I've now incorporated all his suggestions and and am just about ready to send off the materials to the replicators. I'll keep you posted.
Be good and enjoy the Fall colors. And football.
---
Posted: June 6, 2015
Since my last post I played another gig with Hershel Yatovitz, Adlai Alexander and Kenny Morse. As before, it was a delight and a memorable experience. The Corkscrew Wine Bar was more crowded than I've ever seen it.
The night after that I played a piano/vocal duo gig with vocalist Elena Welch. Elena is new to Portland, she just moved here from Hawaii. She is a very good jazz/blues singer who is very easy to work with. The night was a lot of fun. The time flew by.
I am finally getting close to finishing my CD. The working title is "Follow The Sunset" and it refers to life on the West Coast. I've got three more recording sessions scheduled before calling it done. I'll keep you posted. It's taken a lot of work to get it this far but I've been hyper-critical about the production and have been pushing myself more than usual to keep the quality as high as possible. It's real easy to get lazy and lose focus when doing it all yourself. David Burrow did an outstanding job on the drums and he really contributed a lot of energy to the sound. I think that you'll like the results.
---
Posted: March 20, 2015
I played one of my semi-regular gigs last night with the Adlai Alexander Trio at a great local restaurant called Arrivederci. On drums was fellow former Palo Alto CA. resident Kenny Morse. Adlai A. is a friend of Kenny and mine from the Palo Alto area. Kenny's friend, guitarist Hershel Yatovitz joined us last night. Hershel is also from Palo Alto and has been touring the world for the past twenty years with singer Chris Isaac's band. Needless to say, Hershel is a great guitarist and we had a great time performing and hanging out after the gig.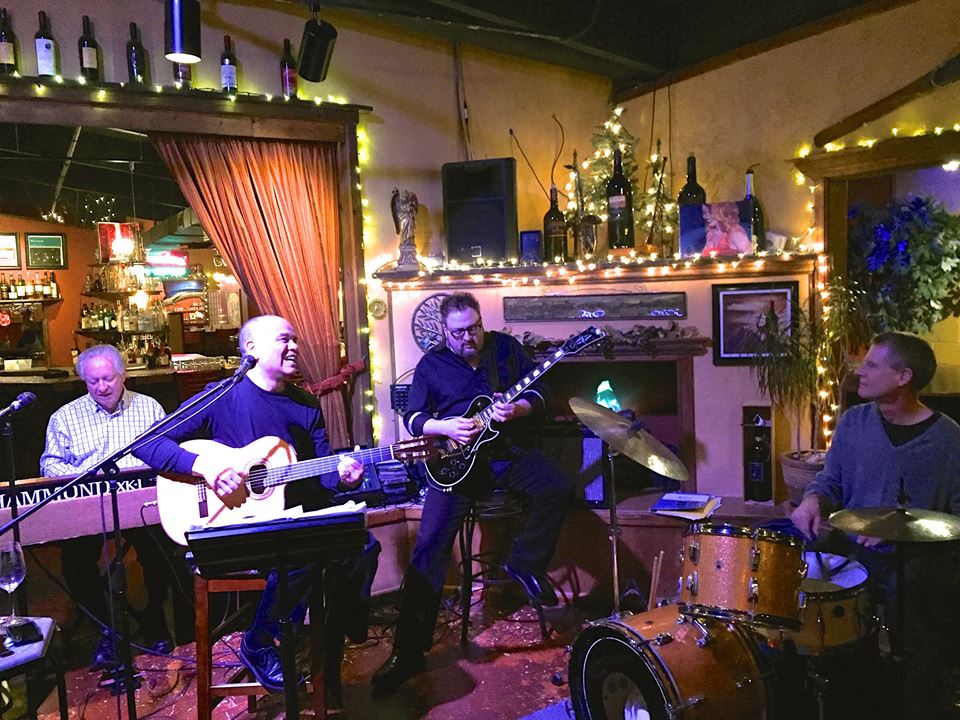 My portable Hammond organ rig (XK-1 with an M-Audio five octave controller underneath the Hammond) is sounding much better these days. I recently bought a CenterPoint V.3 stereo speaker and a Kustom 12" sub-woofer. These speakers replaced my trusty Roland KC-550 amp that I had used for quite a while. The new setup gives an impressive stereo image to the organ and isn't too bad to move. The entire setup fits in my Honda Fit and there's even room for a passenger up front!
I'm still taking trumpet lessons from David Bamonte. He is really helpful and encouraging. I played flugelhorn on a recent rehearsal for David Watson's Rebirth of the Cool band. Six horns and rhythm section produces a lot of sound. I struggled to keep up with the other horn players (some of the best in the Portland area) but it was a great learning experience. I'm far from the best trumpet player in town but I will gladly make any rehearsal at any time. That (and practicing, and lessons) are how you improve.
---
Posted: January 16, 2015
Although January and February are usually slow months for musicians it looks as if there's still enough activity to keep me busy. Two weeks ago I went to Hands Down Recording Studio with David Burrow on drums and Jonathon Letts on string bass. I played electric piano and we recorded four of my new tunes. David and Jonathon both did great work and we got a real keeper on each song. I brought the new tracks to my home studio and added trumpet, guitar and synthesizer parts and also edited out some of my piano flubs. These songs will be used to finish off the Bridgetown Blues CD project that I started with Dick Berk several years ago.
I found Hands Down Studio when Adlai Alexander, Kenny Morse and I recorded there for a future presentation on the Brights Moments Cafe program that airs on radio station KMHD on Friday afternoons. It's a nice little studio that is setup for recording jazz and acoustic music.
The recording came as a side effect of buying a Casio XW-P1 synthesizer that I found in a local pawn shop. I brought the synth home and found that it is a great songwriting tool. I wrote and then recorded simple demo versions of eight songs. I took the four best and wrote arrangements of them that we used in the studio. Both David and Jonathon are very good sight readers and very easy people to work with.
I feel truly relieved to know that the Bridgetown Blues project is finally nearing completion. It was stalled for a long time.
---
Posted: October 18, 2014
School started a few weeks ago and I'm playing with the Portland Community College (Rock Creek Campus) ensemble led by Jason Palmer. This quarter there are some new faces including Wade Kirtley on alto sax. The band is a challenge for my marginal trumpet skills but it's a great experience.
After a long period of inactivity, I am working on the Bridgetown Blues CD again. The band has Dick Berk on drums and it may be Dick's last recording. Although it was recorded several years ago and should have been completed a long time ago I had a very difficult time working on the project. Dick's death made me set the bar quite high for these tunes. I want this recording to be as good as it can possibly be. At this point I want to add two or three more original songs to the lineup. As they say in the high tech world "The last 10% of a project takes 90% of the effort."
---
Posted: August 11, 2014
I just spent too much time re-writing the HTML code that formats the text and pictures on this page. Hopefully I've made it more future-friendly and robust. After testing the results for several days it seems as if it's ready to go.
Not too much to report here, it's been very hot lately and I'm ready for fall weather. I'm still going to Ron Steen's Sunday night sessions at Clyde's as well as a new jam session that also falls on Sunday evenings at a restaurant called Eat: An Oyster Bar. Greg Porter runs that session and it is also a lot of fun.
I've got a trumpet lesson with David Bamonte on Wednesday and I need to spend more time preparing for it. Bye...
---
Posted: July 26, 2014
I played a gig last night with some of the best jazz musicians that Portland has to offer. From left to right, Eddie Parente (electric violin), Ron Steen (drums), Adlai Alexander (guitar) and me (organ). The night flew by and was a real treat.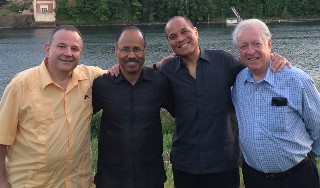 Life is good.
---
Posted: July 17, 2014
It has been really hot for the past week. The kind of weather that we seem to get once a summer. The cats are sleeping most of the day and just getting up to full speed around midnight. At that time all hell breaks loose and the thundering paws (all 12 of them) can be heard tromping up and down the stairs. They don't appreciate my practicing the trumpet during the day but they have learned to ignore it.
There have been a few more gigs lately, I hope that it's just not summertime but an indication that times are getting a little better. I've been playing organ with Bill Harris' trio and Adlai Alexanders trio. Both groups are a lot of fun and great learning experiences. I've even got a trumpet rehearsal coming up on Sunday (subbing for someone else).
I took my first Skype trumpet lesson a week or two ago with trumpeteer Jim Manley (who lives in St. Louis). I wasn't sure of what to expect but found the experience to be rewarding and informative. Jim M. played trumpet with Maynard Ferguson's band and has a lot to offer. I'm still studying with David Bamonte and am grateful for all the help that he has given me.
I've recently become addicted to watching Live From Daryl's House on the net. Daryl Hall (of "Hall and Oates" fame) has put together an excellent music performance program that features a guest artist during each episode. I've learned a lot from watching at least 15 episodes to date. There are plenty more to watch. This is really a "strongly recommended" experience. His band is great and D.H. is very impressive. I owe Rick Hansen a big thank you for turning me onto this show. He has been raving about it for a long time.
---
Posted: June 2, 2014
For the past three months I have been taking an ensemble class at Portland Community College. I am far and away the oldest person in the group. The fellow students have been very nice and encouraging. It's a great opportunity to perform onstage in a real auditorium and blend in with other instruments. I should have been doing this a long time ago.
Portland's jazz and blues community suffered a major loss last week with the passing of Janice Scroggins. She was (deservedly) loved and admired. She will be missed.
Last night, at Ron Steen's jam session at Clyde's Prime Rib they had a special guest, Charmaine Neville from New Orleans. I actually got to play trumpet on two songs with her and Reggie Houston (soprano sax). Charmaine is the daughter of saxophonist Charles Neville. That was a real treat. She was fantastic and a very nice person. My guitar-playing buddy Peter Schwimmer was there too and played up a storm behind Ms. Neville.
I had the opportunity several weeks ago of playing piano and flugelhorn in a trio setting at the Corkscrew Wine Bar. It was a lot of fun and very challenging too. I sang a couple of tunes as well and had a great time with Kenny Morse (drums) and Jonathon Letts (bass). I hope to do more gigs with this instrumentation. Working with a bass player (instead of playing the bass line myself) is a real change. Although the organ and piano both have black and white keys they are worlds apart in a performance context. The mindset is quite different.
---
Posted: Mar 14, 2014
Dick Berk's memorial service was a heartfelt sendoff to one of the jazz greats. It will be a long time before we see someone of his caliber again. Lots of live music and musicians (no surprise there). I wish that I could have played better trumpet than I did but I'm sure that Dick will forgive me.
We're almost through with winter! If it weren't for the fact that I'm choked up with allergies from spring pollens I'd be doing cartwheels. Maybe in another couple of weeks.
I just finished reading Paul deBarros's biography of Marian McPartland. It's titled "Shall We Play That One Together?" Paul went to an incredible amount of effort to research the subject and her surroundings. It starts in World War II England and ends in New York City. If you've heard Ms. McPartland's Piano Jazz show on NPR (National Public Radio) then you will probably really enjoy this book. Hightly recommended.
---
Posted: Feb 11, 2014
I'm sorry to start the new year on a bad news posting but my friend, jazz legend (drummer) Dick Berk passed away Saturday Feb. 8 at the age of 74. I had come to know Dick via the Portland area jam session scene. Dick had started his career traveling with Billie Holiday right out of high school. He had gone on to play with just about every name jazz artist, Cal Tjader, Wes Montgomery, Chet Baker and on and on. He was a firm believer in improving ones skills by taking a deep breath and then getting on the stage with the best players in town. He was always happy to encourage people who were working to improve their art. He could be equally unflattering to those already "knew everything".
Dick was one of the worlds greatest San Francisco 49er fans, always seen wearing 49er clothing as appropriate for the season. At the end of the session he would take out his 49er wallet to settle up his tab. His house had 49er night lights, a 49er welcome mat and more. He was very proud of his commemorative 49er tile installed at the new 49er stadium in Santa Clara, CA. He tolerated the fact that I loved both the 49ers and Seattle Seahawks. We didn't discuss that particular rivalry very much. That's one way we remained friends.
We will all miss him. There is a memorial jam session planned for Tuesday Feb. 18 at Coyote's Restaurant in Hillsboro, OR. It will feature his good friend drummer Ron Steen as the featured artist. Dick and Ron had met over 40 years ago when Dick and Cal Tjader came from San Francisco to Portland to play in the Portland night clubs. Laura Kunard will host the session and I expect it to be packed with jazz fans and friends.
---
Posted: October 23, 2013
Still keeping busy around Portland with gigs, jam sessions, rehearsals, trumpet lessons and family activites. It's good to have lots to do, much better than being bored.
Kathleen and I went to the Bay Area last week, my high school was having a reunion. I was surprised to find out how many of the surviving members of the class were still active in music. I firmly believe that music can be a healing force. The drivers in the Bay Area there have gotten much worse since the last time we were there. They are starting to give the folks in Seattle a run for their money. I am glad to live in the Northwest and not have to deal with traffic and insane housing prices.
The band has been working on some John Coltrane tunes from the Giant Steps album (Spiral and 26-2 to be precise). Trane's recording is definately a classic that still gets lots of airplay today. Learning those songs causes you to really stretch. If you blink and lose concentration you're lost.
Take care and have a fun Halloween as we start the descent into the holiday season.
---
Posted: July 14, 2013
We're definitely into the heart of summer now. I have to remind myself that that is a good thing. I am not a big fan of hot weather but at least it's not humid around here. My heart goes out to the people who have to deal with the 90% humidity that is so common in much of the country.
The level of musical activity has really increased. More gigs, rehearsals, jam sessions and trumpet lessons. My trumpet lessons with David Bamonte are really starting to help. There's nothing like the challenge of having to un-learn 30 years of questionable technique! I feel that my tone and intonation are gradually improving and that makes it worth all of the effort and expense.
Gotta run. Have a nice summer and enjoy some time off.
---
Posted: May 17, 2013
Charlie Porter has joined the quintet as our new trumpet player. He has just moved from New York City to Portland and has very strong credentials both academically and professionally. He's also a very nice person. We had our first rehearsal with him last night and it was a treat. He is doing a lot of touring so scheduling the bands performances will require some careful planning. It will be well worth the effort.
I am still studying trumpet with David Bamonte at Portland State. He is a great teacher and very inspirational. I am getting several hours a day in on the horn, I wish that I could practice more.
The number of performances is increasing, everybody seems to be getting busier. I've been working with Adlai Alexander more lately. He is a treat to be around. I expect that we will do some recording in the future. His schedule is very busy so I won't place any bets on when the project may happen.
Bill Harris has been playing trio dates around town with me on Hammond organ. His alto playing is really strong and getting better. We are working next week at the Orenco Station Grill in Hillsboro.
I am working on a project to simplify my portable Hammond rig and remove excess weight. So far I've lost about 40 pounds from the setup. My back notices the difference! Next, I am building a portable Hammond bass pedal attachment. I've been doing my design work and planning the project details. I hope to have the module completed within a month or so. I'll keep you posted on the progress.
---
Posted: March 25, 2013
Bill Harris's CD is starting to pop up on jazz radio stations nationally and internationally. I just did a Google search for his name and the CD title and it turned up a multitude of jazz radio stations that have begun to play cuts from the recording. Unlike commercial stations, these facilities usually have limited Music Director oversight of the playlists. This results in each station picking the tracks they think their audience wants to hear. Some stations have been playing up to seven or eight different tracks from the CD.
The quintet is still searching for a trumpet player. I've amazed at how difficult it has been to find a replacement for John Dover. I wish that I could play both organ and trumpet with the band (at the same time). Thinking in two different keys simultaneously is a real challenge.
Enjoy the Spring weather. It's nice to see the rain easing up these days. We're not completely out of the dark yet, I played an outdoor block party on St. Patrick's day (with Adlai Alexander and Kenny Morse)and almost froze. It was fun until the last couple of songs when the fingers started to really slow down.
---
Posted: February 18, 2013
Last Saturday's gig at the Camellia lounge was very well attended. We were surprised and delighted to see so many folks show up. It was during the first week of the annual Portland Jazz Festival and I thought that we'd just be the local guys playing in one of the smaller venues. Patrick Nearing covered the trumpet chair and did a great job reading and soloing. We're still looking for a permanent trumpet player but it's a relief to have someone able to cover the material so ably.
I've got my third trumpet lesson with David Bamonte later this week. I've been putting in a lot of time working on the material that he has given me. It seems to be helping already. After many years of minimal progress this is a good feeling. Last week there was a Master Class at Portland State University that featured Charles Schlueter (formerly Principal Trumpet of the Boston Symphony Orchestra). It was very informative and inspiring. Lots of important stuff to take home and think about.
---
Posted: January 26, 2013
I had my first trumpet lesson with David Bamonte at Portland State U. last Friday. Patrick Nearing recommended him highly (in fact, Patrick's studying with Mr. Bamonte). I've never taken lessons from a heavy-duty classical musician before so I was somewhat surprised when he turned out to be a very pleasant and thorough teacher. Strong on the basics of tone production, intonation, and posture. Lots of work and challenges ahead and I'm looking forward to them. I wish that I had connected with Patrick and Mr. Bamonte years ago. Better late...
Bill Harris' second CD "This Time The Dream's On Me" is ready to go out for replication and then on to the radio stations. His first CD went to number 3 on the jazz radio stations airplay charts in 2012. I think this recording has the potential to do even better. I'm keeping my fingers crossed.
---
Posted: January 3, 2013
Happy New Year! We made it through 2012 and I believe that 2013 will be better that 2012. There are already more performing opportunities on the horizon than I've seen for awhile.
I played New Years eve at the Camellia Lounge with Adlai Alexander on guitar, Bill Harris on also sax and Duncan Branom on drums. Duncan's two year old granddaughter lit up the room with her enthusiasm (it was a surprisingly early New Years gig, finished at 7:30 pm). We were all home safely before the crazies got on the road. The room was very receptive and everybody had a great time. We actually made some money too!
Our friend Dick Berk was banged up in an auto accident recently, he was bruised up but had no broken bones. That's a lot for for which to be thankful. Dick is the godfather of the Portland jazz scene and is everybody's jazz advisor. It's a treat to know him. I've learned a lot about the jazz "business" from our conversations.
Have a great 2013 and stay positive.
---
Posted: November 24, 2012
In my previous post I forgot to mention that trumpeter John Dover has told us that he is leaving the quintet. He appeared on the "Cruisin' On Burnside" CD and was a great asset to the band. We are all going to miss him but he has become very busy in the Portland area. John no longer had the time to devote to projects other than his own. We appreciate all that he contributed to the band. His bright, brassy tones will be missed.
---
Posted: November 21, 2012
Bill Harris' CD is just about done. We are waiting for feedback from the Beta copies that are circulating before sending it off to the replicator and then to the radio stations. The comments so far have all been positive. I suspect that this recording will get even more airplay than the first. There are a lot of emotions about the project at this point. Relief, anxiety, and excitement. All at the same time.
We have a new kitten in the household. A friend of our son found it in a ditch next to the bus stop. The friend brought it home and it was love at first sight. He weighed one pound and was about five weeks old. Now he's almost three pounds and growing every day.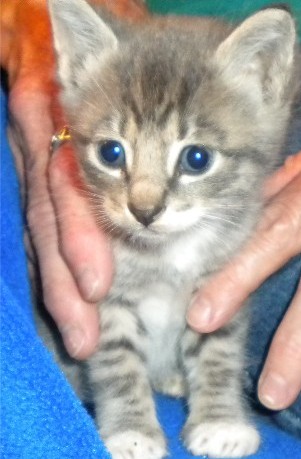 I hope that you have a nice Thanksgiving. We are going to hang out with the neighbors.
---
Posted: October 16, 2012
Bill Harris' project is now in the post production stage, just some mixing left to do and it'll be ready for prime-time. The tracks turned out very well. Bill (alto and tenor saxes), Paul Mazzio (trumpet), George Mitchell (piano), Dave Captein (bass) and Dick Berk (drums) all played magnificently. I'm not certain about the official release date but it should be on the air by the end of this year.
Ironically, I finally heard from Portland State one week before school was to start. They said that I'd been accepted into the Masters of Jazz Studies program. By then there wasn't enough time to get things together so I had to pass on starting this year. I'm not sure whether or not I'll be able to pursue the degree. Mostly an economic decision. Musically, I'd love to do it but it's quite a bit of money.
I played with Adlai Alexander last Saturday night at the Jade Lounge. The band sounded good and the evening was a lot of fun. They were blocking off parking in the neighborhood of the Jade Lounge in anticipation of filming for the Grimm T.V. show (NBC). I love Grimm and was sorry that I didn't get to see them filming.
It's finally starting to rain again in Portland. We went four months without any rainfall. Too much nice weather for us!
---
Posted: September 14, 2012
This week has had two rehearsals for Bill Harris' second CD project. The lineup is the same as the first CD, all local jazz greats. Besides being terrific musicians, these folks each has a strong sense of humor. We will be recording next week. Now that the arrangements have been completed I can relax a bit.
I never heard back from Portland State's Music Department after my audition so it's safe to assume that I won't be attending school there this fall. Not a major disapointment but it wasn't very classy on their part. Even a record company will often send a rejection letter.
Kenny Morse and I have played a couple more gigs lately with guitarist/vocalist Adlai Alexander. They were both a lot of fun and there are more dates on the horizon.
I took my portable recording setup to the Vie de Boehme several weeks ago and recorded John Dover's big band doing a rare presentation of Billy Byer's arrangements. Billy's son Bryan Byers (also an excellent trombonist) has recently relocated from L.A. to Portland and he brought many of his father's arrangements with him. These were originally commissioned and recorded by Count Basie's band. Great music was heard that night. I should have the editing done this weekend.
---
Posted: August 2, 2012
Last Saturday's gig at the Camellia Lounge found the quintet sounding good and at a much lower volume level than in the past. We've been discussing the loudness issues a lot and we are all getting the message.
I played my audition today at Portland State U. for the Master's in Jazz Studies program. The next step is to "hurry up and wait" for the results. It's been years since I've played an audition so I wasn't as mentally sharp as I might have been. Sigh...Whether or not I passed the audition it pointed out to me that I've got to put more work into my high register on the trumpet. Those are what trumpet players call the "money notes."
---
Posted: July 5, 2012
I've got a gig next Saturday with guitarist/vocalist Adlai Alexander and drummer Kenny Morse. We played the same room (the Jade Lounge) several weeks ago and had a great time. The audience loved Adlai. He's got mucho charisma and really sells the material that he performs. I'm looking forward to the coming performance.
The weather is so nice here that I almost forgot (again) to update the website. It's much easier to do computer work when it's cold and rainy outside.
The gigs at the Camellia Lounge both went well. We had added two Woody Shaw tunes to the book, The Moontrane and Zoltan. They added a new dimension to the sound and were well received.
I submitted my application to the Portland State Master's Degree program in Jazz Studies. It took some work to round up transcripts and such but it finally got done before the submissions deadline. Now to hurry up and wait.
I'm working with Bill Harris on the pre-production work for his next CD. His first CD went all the way to number 3 on the Jazz charts for airplay. At this time it's still in the top 50. Quite an accomplishment for Bill!
After 19 years of eating and sleeping, Meow Hall passed away today on July 2, 2012. He will be sorely missed by all who knew him. He was truly one of the great cats.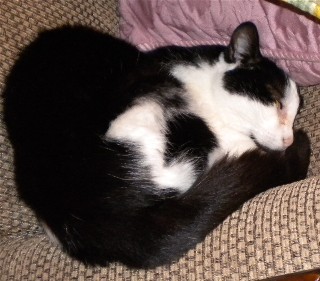 ---
Posted: May 9, 2012
The quintet is back at the Camellia Lounge this Friday night. The band keeps improving and we are still adding new material to the mix. It's been more than seven years since we started this odyssey and we're still rolling along.
I got to host the Tuesday night Coyote Grill jam session last night with Dick Berk - drummer extraordinaire. Laura Cunnard, the hostess was out of town and asked me to cover for her. Lots of fun playing with Dick, Duncan Branom, Brendon Keenan, Eddie Parente (on electric 7 string violin - amazing!!!)and others. That session keeps getting better and better. I even sang a couple of tunes.
I received my transcript from Berklee yesterday and sent it on to Portland State U. today. It took eight weeks to get here. The perennial favorite "computer issues" reared its ugly head. All's well that ends well. Now I have to wait and see if PSU will let me in.
Kathleen and I spent last week in California near the UC Davis campus. The daughter of an old friend was married there and we used the occasion to visit and hang out. It's hard to believe that the San Juaqin valley produces about one third of all the food grown in the U.S. It was 30 degrees warmer there than back here in Portland. It's good to get back home but we have a frost advisary tonight and have to cover our new plants.
---
Posted: March 27, 2012
Our recent gigs at the Camellia Lounge and Ivorie's went well. We are waiting for confirmation on several more upcoming dates at the Camelia. As soon as I know anything new I will post it here.
I am applying to enter the Portland State University Master's Degree program in Jazz Studies. I attended a concert at PSU recently that was put on by the jazz students. The playing and the writing were first-rate. This was after a conversation with Charlie Gray, the director of the program. We'll see how this all pans out, but I'm excited about the opportunity. They have built up a very strong jazz faculty during the past few years. Stay tuned.
It's raining again. This seems to be another "winter that would not end."
---
Posted: February 27, 2012
Bill Harris' CD Outside In is available at CDBaby.com. You can listen to previews of the songs and check out some of the great playing (and arranging) on the CD. It has turned out to be one of the very best projects in which I've participated. It was a lot of work but worth every ounce of energy. Bill is a great saxophonist and I think that you'll like Outside In.
The Quintet is playing this Saturday (March 3) at the Teazone/Camillia Lounge. If you have the time and money (there is a $5 cover charge) please come in and say hello. We'd love to see you. Patrick Nearing will be playing trumpet in place of John Dover (who is playing in the pit band of Bye Bye Birdie this week.) Patrick played trumpet on our Better Late CD.
I've been spending some time on facebook. To be honest, it can really soak up a lot of time that could be better spent on other activities like practicing trumpet or guitar or writing music. I've got to learn to think more positively about the new social media! It's obviously here to stay in some form or another.
---
Posted: February 6, 2012
Another Superbowl has come and gone. Although I don't have much love for either the Giants or the Patriots I have to say that they both played very well. The half-time show was totally over the top. It's hard to imagine what it had to do with music but I'll bet some of the kids loved it. Do you imagine that they'll ever have a half-time show with Wynton Marsallis featured ("an NFL salute to Lee Morgan and Freddie Webster"). Probably not in my lifetime.
The quintet has some gigs booked in March. We will be making our first appearance at both the Camillia Lounge and Ivorie's Jazz Lounge. During our time off we have been working on new material by Monk, Horace Silver and moi. I hope that you can make one or both of the engagements.
This February is turning out to be a great month for sunny weather. Instead of the usual bleakness for this time of year it has been cool but sunny. Great weather for walking around and watching the birds and foliage. There have been lots of migrating Canada Geese to be seen.
The Thursday night gig with Wade Kirtley is continuing nicely. Last week I played guitar while Wade was out. It felt good to so. I am going to search for some more venues at which I can play guitar. I don't think that it will be too hard to find something to add to the schedule. I will probably dust off the vocal chops a bit too.
Take care and hang it there until the football season resumes in late summer.
---
Posted: January 3, 2012
Happy New Year! We made it through 2011 and are now at the starting line of a year that must surely be much better than 2011. Three days into 2012 and I'm a believer!. The San Francisco 49'ers are back in the NFC playoffs for the first time in a decade or so. How long they will last against the Green Bay Packers is certainly a question mark, but hope springs eternal. I'll enjoy it while I can.
Today's email brought the first known review of Bill Harris' new CD Inside Out.
George Fendel, KMHD-FM disk jockey and Portland pianist said Do you have enough jazz wrinkles to remember the consistently great recordings from labels like Blue Note and Prestige? One after another, they turned out timeless small group sessions that went a long way toward defining the very essence of jazz. Well, Portland native Bill Harris has, perhaps unknowingly, applied this wise concept on an absolutely terrific new CD. He gathered a group of Portland's premier players in the studio; put some fresh, invigorating Steve Hall arrangements on their stands; and in effect said, You guys take it from here...I loved every minute of it!
Thank you Mr. Fendel.
For the past month I have been playing a Thursday night duo gig with organist/saxophonist Wade Kirtley. Wade performs at Primrose and Tumbleweeds Boutique and Wine at 248 E. Main Street in Hillsboro. It's a wine bar and restaurant. I mainly play Hammond organ while Wade plays sax. After awhile he plays organ while I play flugelhorn. It's a lot of fun and very low-keyed. The crowds have been building and the audience is a group of nice folks.
Let's spread some musical joy in 2012.
---
Posted: December 3, 2011
November flew by and Christmas is sneakin' up behind us! Between writing music, mixing and editing several ProTools projects and doing a lot of performing I've been keeping busy.
The recording project I referenced in my last post was a CD of arrangements and mixing/editing for saxophonist Bill Harris. Bill assembled some of the best players in the northwest for his debut recording. It was Bill on alto and tenor saxophones, Paul Mazzio on trumpet and flugelhorn, George Mitchell on piano, Dave Captein on bass and Dick Berk on drums. Bill did it all right, there were two pre-production meetings with Bill, George, and me, two rehearsals with the quintet, and two days of recording at Falcon Studios. At George's request a gorgeous Steinway grand piano was brought into the studio. It sounded terrific! It was the smoothest session that I have ever been involved with. I had a few issues with the Finale 2010 music notation software but I was able to resolve the hiccups (after the sessions) with the help of their online help pages and a generous phone call from Milton Nelson (in Los Angeles).
Now that Bill's project is almost done (from my perspective) I am starting a venture with John Dover (trumpet player with the quintet). This looks like another fun recording and performance project. John's a great trumpet player and a nice person. I look forward to getting moving.
During the past seven or eight years I have been going to local jam sessions on a regular basis. There are two on Monday night that I alternate between and another one on Tuesday night that lets me play both Hammond organ and trumpet/flugelhorn (not at the same time). Jam sessions are a great way to play new music with different folks and stay in touch with the music community. Now that I'm retired I can spend even more time out and about. After all these many years the trumpet is finally starting to come together. This is really exciting for me.
Last night Bill Harris and I sat in with drummer Duncan Branom and a group he was performing with at the Vie de Boehme. It was a lot of fun and I even got paid! Wow. I'm sorry that I didn't record it. I now have a little Tascam DR-05 recorder that goes everywhere with me and allows me to effortlessly make very presentable recordings. At $99 it's a terrific tool for the improvising musician.
---
Posted: November 4, 2011
During the past month I've been involved with a recording project here in Portland. I was asked to write the arrangements and do the post-production for, a straight-ahead instrumental jazz recording. It was recorded at Falcon Recording Studios and featured the biggest names in the local jazz community. It was an honor to participate in the CD. At this time I'm not going to mention any details but the recording and editing should be completed within the next week. When the release date is determined I'll fill in the blanks.
Several weeks ago I volunteered my services to record a concert to benefit the Sweet Relief organization. Sweet Relief is a non-profit that exists to help musicians with health care problems. Since many musicians are self-employed they don't have the health coverage that much of the population enjoys. The concert was put together by trombonist Dave Bones and featured Dave on trombone, Rick Homer on trumpet and mellophone, Gaia Shelly on piano, Hank Hirsh on bass, and Chris Conrade on drums. Some great music was played and the band sounded tight. When it was done I generated mp3 files of the tunes and they were given to the patrons and supporters of the event. Capturing the music in a live-to-stereo situation was exciting and satisfying. There was no chance to overdubs or other error-correction techniques. It helped that these were all very good musicians.
---
Posted: September 28, 2011
I received an email from jazzradio.com telling me that they have added "Dat Dere" and "Cruisin' On Burnside" (from the new CD) to their Straight Ahead Jazz Channel. I've posted a link to their site on the main web page. Check them out!
We also received an email from Joost van Steen in the Netherlands that the CD has been added to the playlist of the Jazz and Blues Tour Radio Show.
Things are starting to move. There should be much more airplay activity during the next few weeks. Thanks for your interest.
Sadly, we also received an email stating that the Globe has just ceased operation. We had performed there many times this year. I have to find the quintet a new home. We are playing a set this Sunday at the Coyote Grill in Hillsboro. Bill Harris and I have been sitting in there regularly during Laura Cunard's Tuesday night jam session with drummer Dick Berk. It's amazing to see people respond to jazz positively in Hillsboro. I didn't think that there was any jazz audience here. Fortunately, I was wrong.
---
Posted: September 16, 2011
We have sent a lot of CD's out for airplay and review during this past week. The folks at the Post Office weren't too thrilled to see me show up with bags full of CD's that needed to be stamped and barcoded. Neither were the people in line behind me! After several lengthy trips to the Post Office I have mostly completed that part of the procedure.
I have decided on this project that I will do the phone follow ups to the radio stations and try to learn something about the process. I contacted the first group of stations today and was very pleasantly surprised to find out how nice folks are at the PBS and college stations that I am pursuing. I didn't know what to expect but this was much better than expected.
Over the past two weeks I have played a couple of outdoor gigs with Wade Kirtley. Wade is a very good Hammond organ player who also plays alto sax very well. We trade off playing keyboard for each other while we play our horns. One of the real nice by-products of all this has been seeing people's reactions when they hear live jazz played by real people. The children especially react very strongly to hearing live music. When activities with the CD project slow down I want to see if I can volunteer to play some shows/clinics in the local schools.
---
Posted: September 6, 2011
The CD's have arrived from Disc Makers and are going out to jazz radio stations later this week. I even did a one sheet and and electronic press kit (in .pdf form). In a few weeks I will put together a video EPK and post it to youtube. In the meantime there are lots of little tasks to complete. The good news is that the information about all of this stuff is widely available on the internet. You just have to be willing to expand your skill set.
In addition to the quintet, I have been doing a lot of playing on both trumpet and Hammond organ will Wade Kirtley. Wade is very good on both organ and alto sax. We take turns accompaning each other and I am grateful to have another live music outlet. I may yet become an adequate trumpet player at this rate! There is also a new jam session in town on Tuesday nights at the Coyote Bar. It is hosted by Laura Cunard (keys/vocals) and the legendary Dick Berk on drums. The room is very friendly and has nice acoustics. It also has its own Hammond organ and Leslie speaker. No back aches the next morning! Life is good. There can never be too many places to play!
Take care, it's really warming up in the Portland area after a year of drizzle and low temperatures.
---
Posted: August 6, 2011
Well, guess who forgot to update his webpage? Again? Yep, that's me. Someday I'll get it together but today is not that day.
The Quintet's third CD, titled "Cruisin On Burnside" is finally at the replicators! With any luck it should be ready for public consumption by early September. It will arrive at the radio stations within a week or two after that time. Hopefully it will be heard by the end of September.
There was a fair amount of last minute tweaking going on that seemed to drag on forever. I was beginning to wonder if the darned thing would ever get finished.
Not to brag but we've been having wonderful weather in the Portland area lately. After a very soggy winter, spring, and early summer we've been days in the mid 70's and low '80's. Goldilocks days, not too hot and not too cold.
I'll let everybody know when we are ready to roll with the CD's. I've got paperwork stuff to attend to in the meantime. See you soon.
---
Posted: June 26, 2011
I managed to post several more new band videos on youtube.com (please see the links on the home page for this website). It turned out that the problems I had been experiencing with the videos were due to file transfer problems. That's all been resolved now and there are more on the way.
The quintet has a gig this coming Tuesday night at the Globe (2045 SE Belmont St, Portland). We'll be there from 7 - 10 pm. Please come join us. We'd love to see your smiling faces.
Friday afternoon I attended an event at CDBaby in Portland. It was a lot of fun and they had a panel discussion of effective ways to market your recordings. It was very informative and a great way to spend an afternoon, hanging with other musicians and discussing the business.
I have the feeling that I'm forgetting some items but I wanted to update the website. I'll probably think of two or three news items as soon as I upload this file.
Oh yeah, I just remembered something! I received my second-ever royalty check from BMI (Broadcast Music Inc.) this past week. It turned out to be basically from radio airplay of a song from the Quintet's Better Late CD. "The Dean, Mr. Earl" was played 150 times on a college radio station or stations. Bless their hearts. Even though it was a (very) modest amount of money it was positive reinforcement of our efforts.
We are finally having very nice weather in the Pacific Northwest. I hope that you are settling into summer.
---
Posted: May 18, 2011
I just posted a new video of the band playing Herbie Hancock's Driftin'. It's a laid back easy jazz tune that's a lot of fun to perform. The music turned out well, my video production skills are still a work in progress. I hope that you like it.
---
Posted: May 7, 2011
This week was an endurance contest. We recorded last Sunday and Monday nights at Falcon Recording Studios, played Tuesday night at the Globe, and then spent the rest of the week recuperating. Actually, I spent between 30 and 40 hours working on editing some of the band video that we took several weeks ago. Video editing is really time consuming compared to audio editing. I've got a fairly strong Windows computer but Sony Vegas (the editor that I am using for this project) really pushes the limits of what the CPU can do.
The recording sessions went very well. A welcome relief after the tension that we all expected. Falcon (Dennis Carter) has been around Portland for a long time and did a great job. Peter Schwimmer has the files now and I should pick them up next week. I am working on getting the videos (of the songs on the CD) ready for YouTube. There is lots of activity here.
Have a happy Mother's Day. It's supposed to rain, our youngest son has the flu and the oldest son has to work. It should be quiet. Don't forget to do something nice for your mother on Sunday.
---
Posted: April 16, 2011
We are going to be videotaping this coming Tuesday night's gig (April 19th) at the Globe on SE Belmont Ave. If you're in out and about please come by and add to the festivities. We'd love to see you and your friends. The band is sounding great and we will be previewing some songs that we will be recording in early May. You may be immortalized on YouTube! The weather person says that it should be dry for the first time in six months so there's no excuse for staying home.
---
Posted: April 5, 2011
The Tuesday night gigs at the Globe are continuing. After a very slow late February and early March attendance is picking up. The band is sounding better and our new saxophonist Bill Harris is sounding like he's been with the band forever. Last Tuesday he played some amazing solos and pushed the band to new heights.
We are booked to return to the studio in early May. After much soul searching we have decided to re-record most or all of the material from our third CD. This time we will be going into Falcon Studios. Falcon has a long track record with jazz recording and we expect good things. I was never able to feel confident enough with our recording from 2010 to want to see it released. It took me a long time to realize that fact. We had all worked very hard on the project but it just didn't succeed.
Kathleen and I took a week off and visited Seattle and then Victoria B.C. We saw family and some beautiful countryside. Both cities are charming and worthy of your attention. There was somebody playing tenor saxophone on the sidewalk outside our hotel room in Victoria. He was quite good and played for almost three hours. Lots of endurance! That would be very hard to do on the trumpet.
I love not having to go to work anymore. I should feel guilty but I don't.
---
Posted: February 28, 2011
I just got back from hearing Eric Clapton and his band at the Rose Garden. I am embarresed to say that I have never heard him live before this performance. He played and sang amazingly well. Very strong through a two + hour show with no break. The band was excellent, Steve Gadd (drums), Willie Weeks (bass), Chris Stainton (keyboards), Tim Carmon (keyboards) along with Michelle John and Sharon White (vocals). The Rose Garden was sold out except for a few nose-bleed seats. Amazingly, despite the slow economic situation in Oregon, all of the (very) expensive seats were sold out. Clapton really communicates with people, he did no announcing but still captivated the entire audience. My son and I were in the very last row of seats. People were screaming and clapping for him up there. Great show! The musical intensity was as great as any major jazz artist that I have heard in my life.
This is my last week of working nights! I am officially retiring at the end of this week. Now I can finish the two CD's that I have been working on for so long. It has always been too much time and too little money or too much money (rarely) and too little time. I expect this to be quite a change in my life. I'll keep you posted.
Take care. I'll be talking at you more often now.
---
Posted: January 30, 2011
We are going to be at the Globe again on Tuesday night. This will be our fourth week there. It's a very nice and friendly bar in a fashionable part of Portland. We have been seeing more people every week. The Globe is across the street from the Urban Farm store on SE Belmont Ave. You can hear live jazz on one side of the street and pick up a six-pack of live chickens on the other side of the street! Not too many jazz clubs can offer that to their customers.
I am sorry to say that Cal Hudson, our intrepid saxophonist for these many years, is leaving the band. He has a lot of obligations outside of his music activities and only a limited amount of time. He has been a charter member of the quintet since day one. He will be sorely missed as he is a great musician and a fine person, fun to be around. We are moving ahead in our quest to find a new saxophonist. I'll keep you posted.
Spring must be getting closer. I've been coughing and sneezing for the past week and can barely speak. Time to see the doctor for my annual "Why did I stop taking my allergy medicine?" visit. Too soon old, too late smart.
I'll see you soon.
---
Posted: December 14, 2010
I just realized that I hadn't updated the web site in way too long. My apologies for not being more timely in relaying the news.
After an unscheduled interruption in the production of the quintet's third CD we are finally finishing up all of the odds and ends that needed closure. Life really got in the way of a lot of this unfinished work. Family matters derailed my best laid plans. Not problems but opportunities.
Several weeks ago I had the pleasure of recording a CD with some of Portland's finest jazz musicians. George Mitchell (piano), Scott Stead (bass), and Dick Berk (drums) and I went into Falcon Studios and recorded some tunes. Two originals and the rest jazz standards and such. It was an exciting and challenging experience where I was playing guitar and some trumpet. No Hammond organ. I started out on guitar and every now and then I get the uncontrollable urge to go to the woodshed and do some performing on it rather than organ or trumpet. The CD will be released after the upcoming quintet CD that is finally almost done.
The quintet also had a great time in November performing with vocalist Jessica Dover. We have audio and video from that night and I will be posting some of those files later this month. We are talking with vocalist Adlai Alexander about performing with the group in February and doing a similiar presentation. It will be fun.
---
Posted: October 4, 2010
After dithering for way too long I decided to take the plunge and create a video for one of the songs from the Crescent City Rebirth CD. The song is Friday Night In Congo Square. I am planning to visit New Orleans in 2011 during the Heritage Jazz Festival and thought that I would shoot a lot of video footage at that time. The footage of New Orleans would be for use behind several videos based on music from the CD.
While watching some other YouTube videos this past week I realized that I could assemble something with a slide show format instead of a custom video background. Using that technique I wouldn't need to wait for another six months before starting the video. I gave it a try with the Power Director software that I used for the two Quintet CDs that I've already posted. After spending a large part of the weekend on the project I'm pretty happy with the way it turned out. I hope that you like it. There is a link to it on the main page of the website.
The band keeps plugging along. As usual, I've got to dig up some gigs for us but it's sounding so good that that shouldn't be a problem. Famous last words when you're dealing with instrumental jazz!
Oh yeah, the leafs are beginning to turn color and fall...
---
Posted: August 29, 2010
Good grief! It's almost the end of summer! I don't miss the 100 degree days but it's scary how quickly time scoots by. Trees are starting to turn color already and the NFL football season is underway.
I am meeting with graphics designer Angela Longovia this afternoon to start work on the artwork for the quintet's third CD, tentatively called Cruisin' on Burnside. It's hard to believe that my mother was an artist because I'm clueless when it comes to design work. Thank goodness for talented graphics people like Angela. If I had to design the cover and contents myself I'd probably use a typewriter and crayons.
Our gig last weekend at Vino Vixens was fun. Kenny Morse (our drummer) went fishing with his family so we invited Mike Snyder to cover for Kenny. Mike did a fine job and Kenny got his fishing done. A win/win situation.
I hope that you all have a great Labor Day weekend next week. When we lived in Spokane they had a great concert/food fest called Pig Out at the Park every Labor Day weekend. This year they have 55 bands appearing, for free! I heard some great music at that event. I plan to get back there next year. Great fun indeed.
---
Posted: July 30, 2010
Last weekends concert at the Evergreen Air Museum was a lot of fun. There was a good attendance and everyone was receptive to the bands offerings. It was also a beautiful drive through some of Oregon's wine country.
The Saturday night PDX Bridge Festival gig just got called off. They wanted the bands to spend 45 minutes setting up and then play for 15 minutes. That didn't make much sense to us so we exited "stage left".
Got to run. Take care.
---
Posted: July 12, 2010
Kathleen and I just returned from a week visiting family in Washington. It was great to see everybody and have a break in our usual schedules. We saw a lot of Washington that we have never seen before. The weather was almost hot but not unbearable. Perfect for summer travel.
I have resumed work on the CD and will pass out rough copies for everybody at tonight's rehearsal. It's getting close to being complete but there are still some minor issues to address. I don't like to be so fussy but the marketplace expects "perfect" recordings and won't accept much less. Perfect recordings have been the subject of many an online debate. The discussions tend to get rather heated.
I read a long online interview with Teo Macero, the producer for Columbia Records who produced many (all?) of Miles Davis' recordings and he candidly said that there was a lot of editing work that went into classic recordings such as "Kind of Blue". The practice has gotten much more prevalent these days due to the proliferation of affordable recording hardware and software. As my grandmother used to say "It's a great life if you don't weaken".
I've got to run, I'll be talkin' to you soon.
---
Posted: June 9, 2010
We spent three evenings at Super Digital recently and recorded a bunch of originals and jazz standards. Everybody played well and there were some great takes. Last night we had a listening party and made preliminary notes about which takes of which songs were the best. It really helps to have multiple sets of ears for an activity like that. We have a lot of material on disk now and it's easy to overlook details. Or miss the forest because the trees get in the way.
By the time I make my next post here I should have a tentative CD release date for the latest project. I really need to thank everybody in the group for their great attitudes during the sometimes arduous recording process. There were no fights or hostility during the activities. It probably helped that I brought a lot of food for everyone :) More importantly, the band members are real pros. We may be unknowns from Portland but we are professional.
Portland is having one of the wettest springs that it has ever registered. It seems like the rain is never going to stop. I never should have installed the sprinkler system in the yard and garden. That seems to have really irritated the gods.
---
Posted: May 1, 2010
The band is booked into the big studio at Super Digital in June. We will be recording our third CD, as yet untitled. The song list is certain, one original from John Dover, four from me, and the rest are jazz standards like ...you'll have to wait for that news. Better yet, buy the CD when it's done and read the song titles from the cover.
The choice of recording studios involved a lot of field work but Super Digital's longevity, their central location and Hammond B-3 organ with Leslie speaker were the deciding factors in the decision. When it comes to moving a Hammond, anything that helps you avoid that task gets a gold medal.
I'm missing the New Orleans Jazz and Heritage Festival this year but have made a promise to myself that I'll be there next year. This years schedule would not permit the trip to the Big Easy but I'll make up for lost time next year.
---
Posted: April 12, 2010
I've doubled the number of videos on youtube by posting Bright Mississippi The song is a Thelonius Monk composition with a New Orleans second line feel to it. It was filmed during our Mar, 14th gig at the Mississippi Pizza Pub. We all felt that it turned out well.
Pre-production work continues on the quintet's third CD. I've visited with two local studios and am scheduled to look at a third one on Tuesday. Most smaller studios are no longer oriented at recording live bands, just one musician at a time, so it takes some research to find the right facility.
The winter that wouldn't end is finally drawing to a close here in the Portland area, we are all coming back to life and looking forward to some sunshine. I've been writing and recording more songs lately, I'm well on the way to having enough for another solo CD release. Several weeks ago I found a great piece of recording gear, a Toft microphone preamp, on the local craigslist and have been using it to record the trumpet and acoustic guitar parts for the new songs. Having a piece of quality gear right after the microphone makes a huge difference in the sound. Very inspiring.
I hope that spring is making an appearance where you are. It makes a big difference in mood and quality of life when the cold and rain go away.
---
Posted: March 24, 2010
We finally have a youtube video of the quintet! It was videotaped Sunday, Mar, 14 at our most recent gig at Mississippi Pizza Pub in Portland, OR. Cap'n Jack Blues.
I hope that you like it, it's my first attempt at video editing/production so be kind.
---
Posted: March 18, 2010
Maceo Parker came through Portland this week and I finally got a chance to hear him live. What an experience! He had a great band that was amazingly tight. All the folks that you see on his youtube videos were with him. There is no dead wood in that band.
Maceo had Ron Tooley on trumpet, a name I was not familiar with before this week. He is from New York City and is a fabulous player. If you Google his name you'll see that he has a very impressive discography with a long list of recordings. Dennis Rollins (from England) played excellent trombone too. To make a long story shorter, if Maceo comes to your area, be sure to check him out.
Last Sunday night's gig at the Mississippi Pizza Pub went well. We had a videographer shoot the event and I hope to have some youtube footage available in the near future. I'll keep you posted.
---
Posted: Feb 22, 2010
We are having unusually nice weather here in the northwest this year. Most of us have been walking around without jackets for the past several days and enjoying it. You have to take advantage of the El Nino weather pattern while you can.
Friday's gig at the Mississippi Pizza Pub went very well. There were a lot of small children in the audience and it was satisfying to know that we are exposing those little folks to music that they won't hear elsewhere. We will be playing there again in three weeks or so and I hope to get someone in to videotape the group at that time. Getting a video of the group (on a local jazz group budget) has been a challenge.
---
Posted: Feb 6, 2010
Some random thoughts...
I finally mailed my trumpet and clarinet to the Roots of Music program in New Orleans. Hopefully, by the end of next week two middle school musicians in the Crescent City will be learning to play music on them. It's a good feeling to help keep the music tradition alive in that great city. If you've got an unused band instrument available and you'd like to find a good home for it, contact them at (504) 460-5699.
I've been working on a song by trombonist Dave Bones, he wrote "The Time Is Now" and I worked up an arrangement for it. We're down to finishing the last two measures. It's been fun and I look forward to working some more with Dave. He's a great musician and nice person.
My friend Bruce Garnitz sent me a song that needs some Hammond organ on it. I plan to record the part tomorrow and email it back to him within minutes after completing it. Collaboration by email can really be convenient!
Yes, the roofing shingle I found on the front lawn was off of my roof. Sigh...the roofing contractor fixed it right away at a minimal cost.
Enjoy the Super Bowl tomorrow. I'm caught between Indiananapolis being the home of Wes, Buddy, and Monk Montgomery as well as Freddie Hubbard and New Orleans being the home of much of my favorite music. Tough call.
By the way, if you missed this episode of Austin City Limits featuring the great Allen Toussaint, here's a link to the show that everyone should enjoy. It's wonderful.
---
Posted: Jan 18, 2010
Last night's gig at the Mississippi Pizza Pub found the band sounding as good as it's been to date. Everybody brought their "A" game and there was no letting up all night long. People stayed until the end of the night and all seemed to be having a good time.
We had photographer Robert Knapp come to the club last night and he took some great photos. I'll post some of them when they arrive. The ones I saw were really striking.
John Dover, our trumpet player, is organizing a performance to raise money for the relief efforts in Haiti. We will appear with several other Portland area artists at a large night club in the area. More details to be announced as events unfold.
There was a lot of wind outdoors while we were playing last night and I found a large roofing shingle on the front lawn today. I'd better get outside and take a look around. Keep your fingers crossed.
---
Posted: Dec 12, 2009
The band is playing Sunday, outdoors at Portland Saturday Market. It's going to be cool temperature-wise but warmer than the past two weeks. Last night the weather people were predicting freezing rain and/or snow but it went south and east of Portland. We played last Saturday outdoors at the market and it was cold then. These are the only two times that we've played at Portland Saturday Market this year so I can't complain too loudly. I wonder if we're the only ones who will play in the cold weather?
I've mentioned that we've been working on our house lately. Part of the improvements involved shedding excess stuff. There have been many trips to the local Goodwill to recycle furniture and clothes. In the process I found an ancient trumpet and clarinet of mine and wanted to do something with them. I found a short youtube video of an organization called Roots of Music. They are based in New Orleans and provide music and academic instruction for NOLA middle school children after school.
The video said that about 4000 student band instruments had been lost in hurricane Katrina. As soon as the clarinet comes out of the shop next week I am sending the two horns to them. It sounds like a very effective program that really helps the children. I read that at the time of Katrina the average household income in New Orleans was $15,000 a year. Not much.
Our oldest son is returning to Iraq to finish his second year-long deployment there. We enjoyed hanging out with him and his three year old daughter. We've got our fingers crossed for the remainder of his tour.
Take care and I hope that you have a Merry Christmas.
---
Posted: Nov 23, 2009
We've got another Mississippi Pizza Pub gig coming up this Sunday. The band has been working on some material that we haven't performed lately. Last month's gig went very well so I'm not worried about the fact that we're pushing our comfort zones.
I heard BB King and his band last week at the Roseland here in Portland. He is still shouting the blues at age 84! His band was very strong with two excellent trumpet players, the same two I heard with him some ten years ago when I last heard the band live. In fact, most of the folks on stage were with him last time. That's longevity in action! He's still great and should be heard when he comes to your town. BB is a national treasure.
Thanksgiving is this week and I feel that I have a lot to be thankful for. I hope that you feel the same way too. Our oldest son is coming home for two weeks from Iraq. He is on his second year-long tour there and will be staying with us. That's worth more than a turkey any day of the year.
Take care and have a great Thanksgiving holiday (I have to work but it's ok.)
---
Posted: Oct 21, 2009
Our first performance with John Dover on trumpet went very well. It was our debut at Mississippi Pizza and it felt very comfortable. Mississippi Pizza is a funky place in a now trendy part of Portland. A very nice place in which to perform. We will be back there on Sunday, Nov. 29 from 6 - 8 pm. If you're in town then please drop by and say hello.
The remodeling project that wouldn't end is finally very close to completion!!! I am looking forward to having some quality time to spend with the new piano I bought a couple of months ago. And time to practice more trumpet and guitar too.
I've got to run, I hope that you all have a fun Halloween. Take care.
---
Posted: Sept 27, 2009
There's been a lot going on lately. Patrick Nearing, our trumpet player for the past two or so years (he's heard on the Better Late CD) is leaving to return to college. We were all sorry to hear the news but also happy for Patrick and his desire for self-improvement. I am going to continue studying trumpet with him so he won't be leaving our universe.
We've added trumpeter John Dover to the quintet. John rehearsed with us last Monday and was very impressive musically and personally. Everybody in the band was excited and John was enthusiastic about what he heard from us. We look forward to a fruitful partnership.
I received a nice email from KEWU (Spokane, WA). They are playing both the Better Late and the Crescent City Rebirth CDs.
Several weeks ago we attended a concert by Allan Toussaint. He played piano and sang (by himself) at the Vancouver Wine and Jazz Festival. What a treat to hear him after all these years! He is definately the soul of New Orleans music. He's written many great songs and had amazing commercial success through the years. If you get a chance to hear him, do so. You won't be disapointed. His new CD "Bright Mississippi" is a delight. He's also a real gentleman.
The main reason that I haven't kept up the ramblings here during the past months is that we've been painting and flooring This Old House. What a job. We are entering the last phase of the project (one last bedroom to do) and I will be delighted to never see another paint brush, roller, or masking tape roll again.
---
Posted: July 11, 2009
I just posted a couple of reviews of the Crescent City Rebirth CD. It takes awhile for these to arrive and I have been holding my breath as this is a different flavor of recording from the previous two quintet CD's. So far so good.
Al Evans at KMHD has been the first to play it and I'd like to thank him for his support. He's got a great show and I enjoy it everytime I hear it. It's a terrific blend of old and new jazz.
---
Posted: July 6, 2009
I'm busily sending off copies of the new CD to radio stations and reviewers. There is a small Post Office substation near me that I've been keeping busy of late. I'm sure that the clerk there dreads seeing me pull up to the front door. She knows that I'm going to keep her busy for the next 15 minutes or so while customers pile up behind me. I wish that there were a better way to do that. For now there isn't.
The two parties that the band played recently went well. Both were outdoors. One featured a lot of rain, the other had its share of mosquitos. They were both fun nevertheless. Patrick, Cal, Kenny, and Peter all sounded great.
Our main venue from previous years is still in the remodeling stage. Portland Saturday Market won't reopen for music for another couple of months. Sigh...
Summer is finally here, we had a heat wave recently. Fortunately, it happened during the Waterfront Blues Festival. I got to hear both Robin Ford and Keb 'Mo. Both are great artist/performers. There was a huge turnout for the four day event.
We've got a pending date coming up, I'll post it as soon as it's final. Take care and please enjoy the summer.
---
Posted: May 19, 2009
The Crescent City Rebirth CD is now officially available at CD Baby Crescent City Rebirth. The link has exerpts from each song on the CD. If you like New Orleans flavored music, this might be a good bet for you.
Music activity in the Portland area is very slowly returning to life. Clubs that had ceased having live jazz are cautiously returning to life. We expect to pick up momentum as the year rolls on. It's amazing how bad the economy has been. I hope that we never have another year like this past one.
The quintet will be back in the recording studio by late summer. I still need to write a few for songs for that project, our third CD. Everybody is playing well these days and I'd like to capture the progress. I still look forward to our sessions together. Later this year will be our five year anniversary.
I've started work on a suite of songs about the West Coast. I love this part of the world, from San Diego to Vancouver, BC. It's home and truly inspirational. I'm back to needing a 36 hour day.
Take care and enjoy your Memorial Day.
---
Posted: April 14, 2009
The "Crescent City Rebirth" CD should be on CD Baby within the next week or two!!! After more remixes than I've ever done in my life I was really happy with the results and decided to hand it over to the replicating folks. Once the copies arrive I'll send some to CDBaby.com and to radio stations and publications.
My trumpet lessons with Patrick Nearing are really paying off. He's helping me to pay attention to the fundamentals of trumpet playing. It really helps to breathe properly before starting to play (something that should be obvious but is often forgotten when improvising).
For some reason, the media player that I've been using on this web page has stopped working. I've got to fix it so that I can have music playing while people are accessing this site. That will be this afternoon's project before going to my trumpet lesson.
I just listened to an NPR rebroadcast of a Tom Harrel Quintet performance live from the Village Vanguard in NYC. Fabulous playing and writing by Tom and the group. I've got to get his latest CD. Highly recommended.
I hope that you remembered to pay your taxes. I finally got mine done and in the mail. Ugh.
---
Posted: March 16, 2009
Bruce Garnitz, my good friend and former student/bandmate from the San Jose, CA area has just released his latest CD "I Must Be Dreamin'". I received a copy yesterday and have really enjoyed listening to it. Bruce wrote all of the tunes and sang, played guitar, arranged and produced the CD. It's great!!! Check it out at http://brucegarnitz.com/. You can preview the material and I'm sure that you'll agree that it's a real accomplishment. Notice the Hammond organ part in the background of "City Of Fallen Angels".
I started taking trumpet lessons from Patrick Nearing, the trumpet player with our quintet. He is a great teacher and has already pushed me to break some bad trumpet habits that I had built up through the years.
I am finally ready to send off the master CD and artwork for the "Crescent City Rebirth" project. I've learned a bunch of subtle but effective production techniques lately and have worked to make this CD as polished as possible. It's a very competitive market out there. The people who are the gatekeepers in the industry are all demanding perfect recordings these days. There is a lot of discussion about this topic on the internet. It can drive you crazy but it's good to keep improving one's technique.
I've got to run, rehearsal starts in a few minutes. Take care.
---
Posted: February 22, 2009
Ouch! I let too much time get away from me. I just realized that I haven't updated this site for the past two months. I don't know where the time has gone but it's flown by.
Since the last post I've finally finished recording and composing material for the "Crescent City Rebirth" project. Several months ago I realized that I needed some more songs and I wrote and recorded five more tunes. This necessitated asking Angela Gonzales to modify the artwork for the package. She very kindly did so and I'm ready to send off the materials to the CD replicators during this coming week.
The band is starting to plan for our third CD. I'd like to record it around June and then finish the artwork, editing, and mastering by the end of the summer. We've got lots of new material and just need some originals to finish the mix. Although we haven't been performing much lately we've continued to rehearse every Monday night. By the time we've completed everything the economy should be improving.
---
Posted: December 20, 2008
We've got lots of snow here in Stumptown! The Portland area is strangely quiet due to a lack of human activity and a covering of natural, cold, acoustic insulation. My drive to work tonight should be an interesting experience. We put chains on Kathleen's car several days ago. It was one of those challenges that I would rather not repeat for awhile.
Last Monday's band practice was canceled due to bad weather and this coming rehearsal doesn't look promising at all. Inclement weather forces you to slow down and smell the frozen roses.
I just finished an orchestral piece called "High Water Mark" that I'm going to add to the "Crescent City Rebirth" CD. I was pleased with the way the piece sounded and will add one more song to the CD before calling it a wrap. I thought that I had the project complete several weeks ago but realized that the overall picture needed a little more variety. It's nice not having strict time deadlines.
---
Posted: November 9, 2008
I just returned from spending the week in Los Angeles at the Taxi Rally. This is an event that I first attended last November and felt was truly worthwhile. This year's schedule included a number of panels with top music industry pros. Most of them mentioned that the major labels are laying off people. They also doubted that they would have jobs by this time next year. The "take home" point from those conversations is that there is a lot of "A List" music industry experience available for consulting. I attended some terrific classes also about CD promotion and other useful topics.
I purchased a book called "Prepare Your Music" by Joanne Ledesma that has a bunch of new media information that could be of real use to musicians who are active now. Lots of typos and misspellings in the book but there is also a lot of solid, difficult to find, information.
After three days of living inside the Westin Hotel I'm ready to walk around in the Portland area rain. Los Angeles is fun to visit for a few days but I'm glad that the Taxi Rally is only once a year! I'm going again in 2009.
Oh, one other truly memorable experience. Recording engineer Rob Chiarelli played digital copies of the individual master tracks to the Beatle's "Sergeant Pepper's Lonely Hearts Club Band" and Marvin Gaye's "What's Goin' On". He wouldn't say how or where he obtained them. Hearing the original tracks from those sessions was magical. Sergeant Pepper was recorded on four tracks! "What's Goin' On" was done on sixteen tracks. Forty eight tracks is pretty much the minimum these days. Marvin's lead vocal part was stunning. You could hear a pin drop in the auditorium when they soloed that track.
---
Posted: October 12, 2008
We just returned from a week and a half in California. Kathleen and I stayed in the Monterey area for a week and also visited with friends that we haven't seen in years. After that we drove south to San Simeon and spent two days at the Hearst Castle. We had terrific weather and no forest fires during the entire time. We missed the Monterey Jazz Festival by a week but a grand time was had by all. We saw whales in the Monterey harbor area and I was able to keep from getting seasick (barely).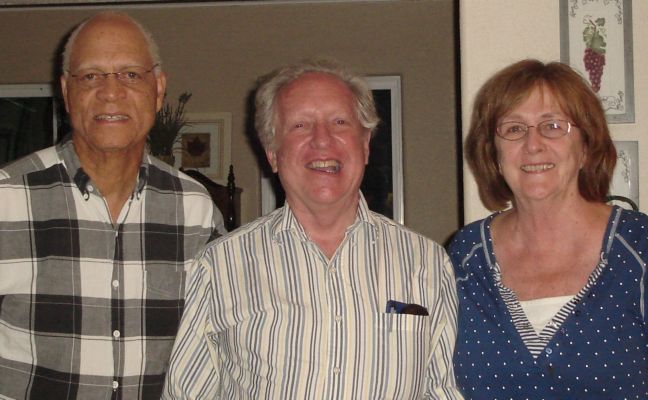 Here's me with Nate and JoAnn Pruitt. We hadn't seen Nate and Jo in years, there was a lot of catching up to do at their beautiful house in California. Nate gave me copies of his two Primary Colors CD's "Every Mother's Son" and "We Know How It Feels". Both are excellent recordings and deserve recognition. Primary Colors is Nate (vocals) and Rick Vandivier (guitar) plus some great musicians from the San Francisco area.

We were also able to visit with Rick and Carol Hansen. They know their way around the Carmel area and we took advantage of their expertise and new car. Seventeen Mile Drive was spectacular and a treat to visit. Rick is a great drummer and teacher. We worked an organ and drums duo for a long time.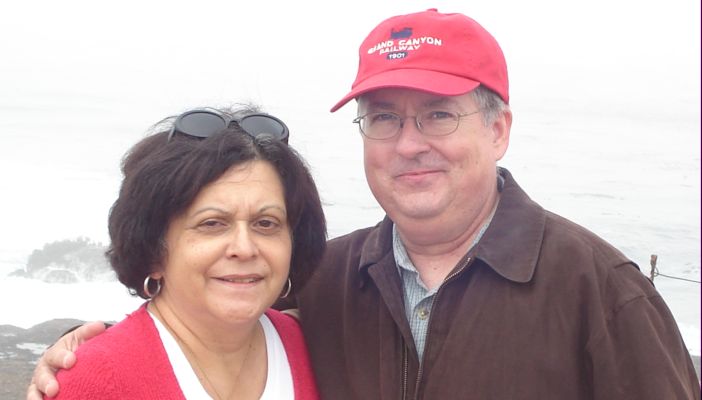 I've started taking trumpet lessons from Joe Marcinkiewicz. Joe is a world class teacher, performer, and trumpet manufacturer. He is helping me to reform my embouchure and become a more efficient player. It's like learning to walk again. Not easy, but he is very encouraging and inspirational. I expect it to be a few more months before the new techniques become comfortable.
Next month is the Taxi Rally in Los Angeles. Four days of behind the scenes workshops and panel discussions by very knowledgeable people in the music industry. I also look forward to visiting with Bruce Garnitz during that time. Bruce, Nate Pruitt, and I worked together in the San Jose area many years ago. He has become a very successful performer/composer in Hollywood.
---
Posted: September 7, 2008
Peter Schwimmer and I played with Reggie Houston again last Sunday at Cannon's Rib Express. It was fun as always. No surprise there, with musicians like Reggie and Peter on the bandstand it's got to be enjoyable.
After a lot of head scratching I've found a way to make a really portable Hammond organ. I just bought the new Hammond XK-1 portable and placed it on top of the older Hammond XK-2 that I've been using for the fast six years or so. Voila!, instant portable B-3. It sounds really good and travels in two pieces that are each less than 40 pounds. For those of us who have moved the 300 pound original items this is a huge improvement. Now I've got to hustle up some more gigs so I can put the new gear to use.
The artwork is finally in progress for the Crescent City Rebirth CD that I've been working on. Angela Gonzales is doing the graphics work. She did the graphics for the Better Late CD and is on her way. Once the artwork and copy are done then it's off to the duplicators. There will be copies on CDBaby.com soon. Musically the project turned out very well, I'm excited about it.
Kathleen and I have been painting the inside of our house lately so that has been consuming a lot of my time. As soon as that's done we are going to replace the carpeting with wood flooring. The job has been a lot of work but things look nicer. Quite a ways to go before we are done.
---
Posted: July 26, 2008
I had the pleasure of playing two gigs in the past two weeks with New Orleans saxophonist Reggie Houston. Peter Schwimmer was guitarist on both dates. Reggie played many years with Fats Domino and relocated to Portland after hurricane Katrina devastated his home town. New Orleans' loss has been our gain. He is a walking encyclopedia of New Orleans music and a great musician.
Kathleen and I are traveling to Spokane, WA next week to see our granddaughters and friends Steve Maurer and Terri Cooley. It's a last minute trip that is long overdue. We're excited to be returning to the Inland Empire. I'm going to take my flugelhorn with me and hope to get a chance to play it. There are some terrific musicians in the Spokane area.
Tower Of Power is coming to town in two weeks, we've got our tickets. They're great and always put on a very musical show. That'll keep me funkified for another year!
Speaking of funky music, check out Maceo Parker's videos on www.youtube.com. Let's Get It On is a nice example. He's got some wonderful material on that site. The band is great and very tight. Maceo covers a very attractive (to me) niche between jazz and funk. Exciting music indeed.
---
Posted: June 24, 2008
I signed a non-exclusive contract for the song "Rasta Turtle" with a publisher is Southern California. This was my first song placement in many years. Back in the day (the 1970's) I was writing songs with Gary Krause and we managed to place six or seven songs (as I recall) with various publishers. Nothing developed past that point and it got to be so expensive that we had to eventually cease operations. Several years ago I began composing again and submitting songs through Taxi (www.taxi.com). Rasta Turtle (from the first quintet CD) was the first placement. It took a long time to get that far and I am cautiously optimistic.
I am trying my hand at writing and recording some music for industrial applications. It's a stretch to write music that doesn't have drums and I am enjoying forcing myself into a different direction. I'll post some segments on this site when they are done.
The band played a summer solstice party last week. It was great fun for everybody. There were tons of elementary school aged children there. They had each had too many sodas and went collectively berserk with the caffeine and sugar. If we could just harness that energy and run our cars off of that energy source the nation would be in fine shape.
I've put together master CD's of "Crescent City Rebirth" and "Last Bus To Portland". I'm 99% happy with both projects and am going to start working with Angela Gonzales to do the artwork. With any luck, they will both be on CDBaby.com by the end of summer.
I updated the downloads page to make it easier to hear the music. No more files to download and open. I hope that this works out to be an improvement.
---
Posted: June 3, 2008
We just found out that the Portland Saturday Market has canceled all of their 2008 musical activities. Sigh... They lost a city traffic permit that was necessary for their new layout and location. Next year they plan to have a permanent location across the street from their present venue. We were disappointed because the Market provides a fresh air, all ages, setting. We look forward to 2009 when they plan to resume live music. Now I have to get busy and book some more dates for the quintet. That's my plan for tomorrow (Wednesday).
Last Sunday we played an outdoor block party and had a great time, except for the unexpected rain. The organ got slightly wet but everything else was ok. Portland has a tradition of rain until the 5th of July.
Trombonist Dave Bones recorded his parts for the Crescent City Rebirth CD and I can see the light at the end of the tunnel. Larry Nobori added some great clarinet parts recently. It really added that New Orleans flavor to the project. It's almost done. Almost.
The Better Late CD continues to log airplay locally on KMHD and KJAZZ in Los Angeles. It's about time to start writing tunes for the third quintet CD.
---
Posted: May 12, 2008
It seems like things are slowing down around Portland these days. Maybe with the weather finally warming up (at least a little bit) we'll see more activity. I know that I've got to get out and talk to some more nightclub owners and keep rolling that rock up the hill. I've set aside time on Wednesday for that task.
Work is progressing on the suite of tunes that I've been working on called "Crescent City Re-Birth". It's evolved into seven original songs plus segues. Dave Bones will be recording the trombone parts later this week and I hope to have a clarinet player scheduled soon. I had originally planned to use Soprano Sax but realized that the clarinet is intrinsically tied to the New Orleans sound and that would be more appropriate for this group of songs. No offense meant to the legacy of Sidney Bechet!
That should finish the music portion of the project. After some head scratching I think that I'll release it as an EP (my son Dylan's suggestion). That way I can keep the recording focused and not get side-tracked creating other material for the CD that isn't relevant to the main theme. It will be about 25 minutes long. I'll post some mp3 clips on this site when it's complete.
---
Posted: Apr. 21, 2008
We had a strong night at Produce Row this past Saturday. It was one of the biggest crowds that we've drawn at that venue. A special thanks to DJ Tim "Java Man" Taylor (KMHD-FM) for announcing the gig and playing Mambo Nuevo. We played some of the new tunes that we've been woodshedding. We did Seven Steps To Heaven (Miles Davis) and Nardis (also written by Miles Davis).
I'm getting close to completing a five part suite of songs about New Orleans, post Katrina. It's tentatively title Crescent City Re-Birth. Nancy Goldberg is recording a flute and piccolo part (one each) tomorrow. I intend to add Cal Hudson's soprano sax to two of the songs soon. At that point the suite should be completed. Cal played some great soprano solos at the Produce Row gig. It's been a lot of fun to compose and record the parts, I believe that it's one of the best works that I've done to date. I'll probably have a few hundred CDs printed and put some mp3 files on the web site. Stay tuned.
---
Posted: Mar. 24, 2008
It's been quiet around Portland lately, although the rain is finally easing up it's still colder than normal. People are just now venturing out of their homes to see what's changed while they were hibernating.
The band has been working on new (to us) material. We've been practicing and studying Wayne Shorter's "Pinocchio". It's quite a bit different from the other songs in our book and requires a different thought process to play. It'll be a while before we feel confident enough to play it live but I'm sure that we'll perform it at Produce Row in April.
In the meantime I've resumed attending the Monday night jam sessions at Produce Row under Ron Steen's supervision. Ron can be a tough taskmaster but it's always a great learning situation on his bandstand. His session attracts very good musicians and you have to bring your "A" game. That's when you learn the most. As drummer Gary Hobbs told me one night, "You haven't arrived until you've left the bandstand in tears at least once."
---
Posted: Mar. 9, 2008
We just received a very nice review of the Better Late CD from Larry Taylor of jazzreview.com. I've put a quote from it on the Reviews page. Here's a link to the entire article.
The Portland Saturday Market started its 2008 season last Saturday and we had a great time performing there. It was a little cold but still fun.
I'm getting closer to finally finishing the Last Bus To Portland CD project. Trombonist Dave Bones recorded some tracks yesterday. His contributions really put a solid bottom on the existing brass parts. As a composer, it's a thrill to hear your music come to life. This recording was supposed to have been released months ago but I want to make certain that it's as good as I can make it before putting it out into the marketplace.
Don't forget to set your clocks ahead one hour today.
---
Posted: Feb. 18, 2008
We had another strong night at Jax Bar this past Saturday. There was a good crowd and the band was inspired. Everybody's performances were at the A level. We've put the Wayne Shorter song Witch Hunt (from our first CD) back in the set list and it's really been working.
It was fun to be part of the Portland Jazz Festival with the gig at Jax. That's been the highest level of the totem pole that we've reached to date.
We are booked back into Produce Row Cafe for a Saturday night in April. I hope to hear from the Portland Saturday Market soon. We should be back in their lineup when they re-open in March. Before too long I'll have to start writing some material for the quintet's third CD.
Here's a link to a recent song I've written called No Show. It's an mp3 on my Taxi website.
While I'm at it, here's another new tune called Turn Left At Tomorrow. This is also on the my Taxi website.
Both songs are in more of a pop music vein that what the quintet has been doing.
I'll be back here soon. Take care.
---
Posted: Jan. 21, 2008
Jax Bar had standing room only this past Saturday night! We had a great time playing for the enthusiastic audience. I was expecting a slow evening because the weather was starting to get really cold and the NFL conference playoff games were scheduled for the next day. As we started to set up for the gig there were only two people in the room. Fortunately that changed very quickly and the room filled up nicely.
We are soon to enter that period of high personal productivity that occurs after the football season ends. Every year it seems like I have this enormous burst of energy and lots of extra time after the dust from the Super Bowl settles. Time to work on more new songs!
Take care and stay warm.
---
Posted: Jan. 2, 2008
Happy New Year 2008! I hope that you had an enjoyable New Year's Eve and didn't get into too much trouble. It was quiet in Portland, the band stayed home (again) and we avoided the parties outside. After many years of playing clubs, restaurants, and hotels it has been great to stay home on New Year's eve.
It's time to make resolutions and work towards those goals. One of my highest priorities will be to get more music placed with publishers during this coming year. There's always a significant amount of lead time when dealing with the folks in the industry so I am working on loading up the pipeline early in the year when it's quiet. I've completed seven songs during the past two + months, a personal best for me. I don't know whether I can keep a steady output but I'm enjoying the songwriting process so I want to continue as best I can.
I hope that 2008 is a great year for everyone, especially you. Take care.
---
Posted: Dec. 25, 2007
We finished off the 2007 Portland Saturday Market season this past Sunday. There was a serious amount of rain coming down during the show (including some that was on the bandstand). People stayed around to listen to the music, applaud, and buy CDs. Bless their hearts! Not perfect conditions for an outdoor show but we all survived and had a great time. It was a rewarding feeling (again) to be presenting live jazz to people who might not ever hear it. I expect to resume performing there again when the season restarts around March 2008. We should be dried out by that time!
I lost most of last week to a nasty case of the flu. I hope that nobody else has had it recently. It swept through our house like a tornado.
I was saddened to hear of Oscar Peterson's passing. He was truly one of the all time giants. I have very fond memories of hearing him live at the Blackhawk in San Francisco with Ray Brown on bass and Ed Thigpen on drums. Many, many years ago in the early '60's. The world will miss him.
We hope that you all have a great Christmas holiday season and that 2008 comes through with good things for you all. Peace
---
Posted: Dec. 10, 2007
There hasn't been too much to report lately. The band continues it's Monday night rehearsals and we are adding new material to the book. Lately, we have been working on Dexter Gordon's "Cheesecake", a great LTD (Long Tall Dexter) tune. The band really likes to dig into those kinds of songs and gets restless if we play too much laid back material. It's great to work with such energetic folks.
When I was a teenager and would perform with people who wanted to do songs like Misty and Satin Doll I had a nagging feeling that they were missing the excitement that was to be had from the jazz experience. The older I get the more I still believe that to be true. I hope that I didn't offend anybody with that last comment but...
We had our first airplay on the local jazz station KMHD last week. D.J. Tim "The Java Man" Taylor played "The Night Has A Thousand Eyes" from the Better Late CD.
I have been spending much more time lately writing and recording songs for submission to the screening staff at Taxi. During 2007 I've had seven songs forwarded by them to various projects. That's not the same as winning a Grammy or getting a gold record but it's a definate feeling of validation. If there were just an additional twelve hours available in each day I could really make some progress!
---
Posted: Nov. 25, 2007
Our gig at Portland Saturday Market yesterday was memorable. Playing outdoors when it's in the low 40's (farenheit) is a real challenge for everybody, especially horn players. The metal horns contract when they get cold and then warm up and expand as you play them. This changes the intonation over the course of just a few seconds. When you play in those conditions you just have to set your expectations appropriately. Patrick Nearing (trumpet) was out of town and Wade Kirtley (alto sax) stepped up to cover the trumpet parts. Everybody was dressed for the cold and together we looked like the Abomnible Snowmen. I'm surprised that we didn't scare the children who were attending.
We received a very nice email from the Danish Radio Network. They received the new CD and have put it on the air. I'm still working on getting the CD played on the local jazz station (KMHD). They are mostly volunteers and have a tendency to move slowly.
---
Posted: Nov. 13, 2007
The Taxi Road Rally in Los Angeles was quite an experience. It was held at the Westin Hotel by the airport. There were about 2300 people attending. Many from overseas, Australia and Scotland seemed to be well represented. There were some "colorful" characters to be seen. Quite a show.
In addition to many seminars and very informative sessions I had a chance to hang with Bruce and Ginger Garnitz. They were gracious hosts and we had a lot of fun catching up on old times, trading war stories. We also did a lot of playing and talking music production techniques. There was even a visit to Venice beach. Very inspiring times!
I'm ready to go to next year's Road Rally. In a business where you have to generate your own enthusiam, it's great to be around so many positive, talented people who are going the same direction as you are.
When we returned there were a couple of new dates at the Saturday Market for the quintet. I've posted them on the main page of the web site.
---
Posted: Nov. 7, 2007
Kathleen and I are heading to Los Angeles this weekend for the annual Taxi Road Rally. This is a songwriter/composer meeting that gives Taxi members an opportunity to network and meet music industry folks. I've never been to one of these events and it promises to be fun and informative. I'm going to take a bunch of the quintet's CD's and business cards. I'm a terrible shmoozer but I expect to come away with some new contacts. I'll let you know what happens at the Road Rally in the next update.
This tThe trip will give us a chance to visit with Bruce Garnitz, a friend from the 1970's. Bruce played guitar in the P-H Factor, a trio that played in the San Jose, CA area with Nate Pruitt and me. Bruce went on to get a degree from Berklee and taught there for several years after graduating. He and his wife Ginger then moved to Los Angeles where they remain to this day. He has been working his way up the food chain in Los Angeles and has had some real success as a composer/performer. We haven't seen them in about 30 years so we're excited about the upcoming events.
By the way, I found a bunch of Wes Montgomery videos recently on youtube.com. They were apparently filmed during a mid '60's tour of Europe. Harold Mayburn is on piano and the bass player and drummer are also both great. If you like jazz guitar, Wes was "the man". I heartily recommend watching these videos.
---
Posted: Oct. 24, 2007
We are booked into Jax Bar during January and February of 2008. We've performed there before and had an enjoyable time. Jax is a friendly restaurant/bar on 2nd street in downtown Portland. The February gig will be as part of the Portland Jazz Festival. We are all very happy to be included in the festival. The headliner for 2008 is Ornette Coleman.
WPKN in Bridgeport, CT and KLCC in Eugene, OR are playing the CD.
---
Posted: Oct. 5, 2007
KSDS in San Diego, CA and WPKN 89.5 in Bridgeport, CT are playing the Better Late CD.
---
Posted: Oct. 1, 2007
The performance at Portland Saturday Market was a lot of fun despite the cool weather. Summer is history and we were lucky to avoid any rain. Kenny Morse took the weekend off and Alan Tarpinian filled in on drums. Alan did a great job and read all of the drum charts confidently. There was a slight hitch with an accidental double booking of bands. After some easy-going negotiations we played the 2 - 3:30 slot and the other band came on after we finished. Everybody was professional about the potentially ticklish situation and we all came through with flying colors.
Right now there's nothing on our calendar, I'm talking to some clubs and should have something to report soon.
---
Posted: Sept 25, 2007
Saturday's CD release party at Produce Row Cafe went very well. The crowd was very supportive, energetic, and they bought a lot of CD's! One can't ask for more than that.
Last night was our last night at the Pirate's Tavern, at least for awhile. They have been changing things around and are now going with music much later in the night. Since several of us have to get up very early in the morning it won't be feasible to continue our Monday nights. We'll be performing this Saturday at Portland Saturday Market from 2 - 3:30. The PSM gig is a lot of fun because it's outdoors and draws a crowd that is a real cross-section of Portland folks. So far it hasn't rained, let's hope that our streak continues.
---
Posted: Sept 18, 2007
Brian Toscano, a writer researching an article on saxophonist Jack Shroer, sent me a copy of this ancient band picture. It's Randy And The Soul Survivors from 1964 or 1965. We were a bar band playing in Boston's infamous Combat Zone. Randy was a great vocalist and very effective band leader. I learned a lot from being with this group.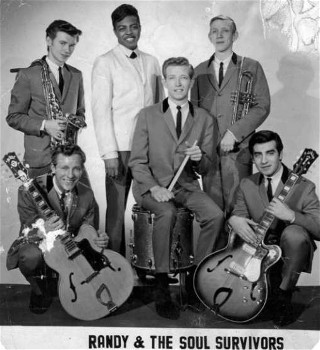 That's a very young me in the lower left hand corner with my Guild guitar. From left to right, Jack Shroer (tenor sax), Randy Madison (vocals), John Klingberg (trumpet), Steve Hall (guitar), Tom Hall (no relation) (drums), Al Leto (bass guitar).
Jack Shroer went on to become famous for his contributions to Van Morrison's very successful albums during the 1960's and 1970's. John Klingberg, who was my roommate for two years at Berklee, also played bass on Morrison's big hits. Both John and Jack died way too young.
---
Posted: Sept 15, 2007
Radio stations KJAZZ in Los Angeles, CA and KRFC in Fort Collins, CO have started to play Better Late. WUCF in Orlando, FL has also played the CD.
---
Posted: Sept 11, 2007
Radio ARA, Luxembourg has told me that they are now playing Better Late.
iTunes has added the songs from Better Late to their catalog. There is a link to them on the main page of the website.
On a more mundane note, Kathleen and I have been painting the trim on our house these past few days. It's been really hot here in the Portland area. I am eager to finish the project as it takes away from practicing. Also, I'm not very fond of working on ladders.
---
Posted: Sept 1, 2007
We learned today that radio stations WBOI in Fort Wayne, Indiana and WRRG in River Grove, Illinois are adding Better Late to their playlists! These are the first stations to start playing the CD. Thank goodness for FM jazz stations.
Our gig this afternoon at the Portland Saturday Market was fun. We had great weather, lots of people, and a receptive audience. The band sounded strong and we "got over". You can't ask for more than that.
---
Posted: August 21, 2007
John Gilbert's review of Better Late was published yesterday on ejazznews.com and it is very flattering! I've posted it on the Reviews page of this site. Thank you John. Positive feedback from people that you respect can keep you hanging in there when common sense makes you question your activities.
---
Posted: August 19, 2007
I've been changing the formatting of the website. I hope that it's a little easier (and more attractive!) to read. If things don't look correct you might need to refresh the page that you're looking at (press the F5 key on a Windows computer).
I received an email from noted jazz critic John Gilbert that he really liked the new CD and had written a favorable review to be published soon. I will be glad to let everyone know when that occurs.
---
Posted: August 13, 2007
Our first performance at Portland Saturday Market went very well. It was a great day for playing outdoors, sunny but not too hot. We really got lucky on that one. With such a wide-ranging population in attendance I didn't know what to expect but the folks came through. I guess if you come prepared they will at least respect what you're doing, even if it's not their first choice of music (jazz is roughly 4% of the music marketplace).
I've started circulating the CDs for reviews. As soon as a few reviews come in I'll start mailing them out to radio stations. That's when the money really goes flying out the door! In a perfect world the radio stations would call the artists and ask for promo copies but that rarely happens. I put a link to our CDBaby site for the Better Late CD on the first page of the website.
I heard Tower Of Power last night at the Oregon Zoo. They were, once again, amazing. That was the eighth time that I've heard them live. They are consistantly excellent. Like Duke Ellington's orchestra, that is a real tribute to their leadership. Emilio and Doc are doing something right. This month is the 39th anniversary of the band. If they come through your town turn off the TV and take the time to check them out. They are one of the great American treasures.
---
Posted: August 6, 2007
The Better Late CDs have arrived and are now being sent out for review and being placed in the music pipeline. The CD should soon be available at CDBaby.com. I'll post a link to that site as soon as it's ready.
Our wedding gig went well this past Saturday. It's always nice to appear outside of a bar/restaurant and see a different group of folks, especially the children. Most American children get no real exposure to live jazz so it's important to let them hear it whenever possible. Last Monday at the Pirate's Tavern we had several youngsters dancing to Wes Montgomery's "Full House". They went crazy and so did the band, it was great to be playing while watching them having such a great time with the music. There's hope for the future of our American classical music.
I've got to go now and get to work sending CDs out to the world.
---
Posted: July 29, 2007
I received the CD proofs for the Better Late project this past Monday. They sounded fine to me so we are now about two weeks away from having finished CDs. At that time the real grunt work will begin. Mailings, phone calls, all of the tasks that I am not particularly good at performing. It should be a little easier this time but that kind of work is not natural to most musicians.
Monday nights continue at the Pirate's Tavern, in fact, we even performed there this past Saturday night. Moving up in the world! We will soon play a Saturday afternoon slot at the legendary Portland Saturday Market on Saturday August 11 from 2 - 3:30. We will also be back at Produce Row in late September. The band is playing a wedding this coming Saturday and we're so busy that it seems unusual. I've got to learn two new tunes and sing them for the reception. That will be the first "pop" music that I've performed in over ten years. It's sometimes hard to believe that "back in the day" I used to work 250 - 300 nights a year.
---
Posted: July 10, 2007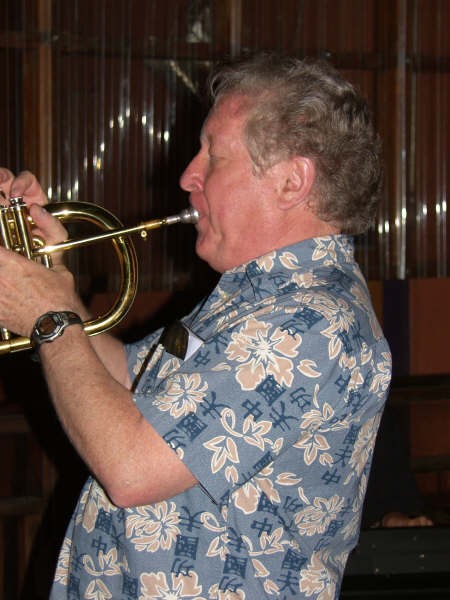 Steve at Ron Steen's Monday night jam session at Produce Row Cafe, Portland, OR. Ron's session happens after the quintet's Monday night gig at the Pirate's Tavern. Kenny Morse and I usually attend the session after our gig.
Photo by Redd Williams.
---
Posted: July 8, 2007
We received the proofs from Dungeon (the CD replication company) and found a few things that needed to be changed. Angela Gonzales, the artist, made the tweaks and the files are on their way back to Dungeon as we speak. Angela also did a very nice looking poster for the band (our first professional one). We should be getting those back at the same time as the CDs. It's beginning to get exciting again.
I spent time listening to the next project and decided to add two more songs to it. That should go quickly and I expect to have that CD (Last Bus To Portland) completed by the end of August.
Kathleen and I are going to Seattle next weekend for the NARAS picnic on the 14th. I expect it to be fun, last summer's event was very enjoyable and we met some great folks from the Seattle music scene.
---
Posted: June 27, 2007
The Better Late CD project (the quintet's second recording) is now in the capable hands of Dungeon Replication. I took the files and my credit card to their office yesterday and got the project started. Of course I took the wrong artwork files but Angela Gonzales, the graphics artist who did the artwork, contacted Dungeon and straightened out my foul up. Thank you Angela! Apparently, the .pdf files that are used for "proofs" are not the finished product that the printers need. Live and learn. Dungeon is quoting the end of July for finished CD's. What a relief to have that part of the effort complete!!!!!
Monday night's at the Pirate's Tavern continues. We were having some problems with the volume but Johnny (the owner) talked with the band and worked to create some livable compromises. He's happy because we are not as loud as before (it's a very "live" room) and we're happy because we still have a Monday night job. I must say that in all my years of playing nightclubs I have never worked with as understanding a club as the Pirate's Tavern.
We are playing another block party this Saturday night. We performed last Saturday outdoors with many elementary school age children running around. Perhaps hearing live jazz for the first time in their lives. It was fun and we are going to do it one more time this Saturday.
With the quintet CD project moving on to the next stage I can work on completing my songwriting project, Last Bus To Portland. Most of the songs are complete but I want to add two more to the collection. With any luck it will be ready by the end of summer.
---
Posted: June 19, 2007
After a respite of several weeks I have done yet one more mix of the CD project. The band members are listening to it and will (hopefully!) ok it soon. I burned out on remixing and tweaking the songs and decided to put it all on hold until my perspective improved. I need to wrap up the Better Late CD before finishing up the next recording in the pipeline (a songwriting project).
I believe that this coming Monday night at the Pirate's Tavern will be our last Monday until we return to play a Saturday night in late July. It's been a great run but everything slows down during the summer and our rambuncious band is a little much for a room that isn't full of people. The owner, Johnny, has been great to work with and we've enjoyed ourselves a lot. We will return to rehearsing on Monday nights at Cal's house.
For those who might be interested, I am in the process of updating some of the arrangements that we used during the recording of the first CD and converting them to .pdf files for download from this site. There will be no charge for the charts, just the usual legal stuff about not reselling them, etc. Common sense.
The band will be playing at a couple of informal parties during the next few weeks. That will be fun as there will be children in the crowd, hearing music that they will probably never hear on their radio stations. Kenny, Cal, and I played outdoors several weeks ago for Kenny's sons elementary school. A good time was had by all until we were rained out. It's good to get out of the bars...
---
Posted: May 13, 2007
I spent last week in Santa Clara, CA attending a training class related to my day (actually night) job.
While I was down south I received email that two musical friends of mine had passed away. The first, Juel Rowden, was a terrific bass player/vocalist and person from the Spokane, WA area. We worked many gigs together in the Outside/In blues band. Juel was always fun to be around and was an inspirational person. Everyone who knew him will miss him.
During the same week a well known jazz drummer in the Portland area, Akbar DePriest also passed. He was the father of the great local singer, Mario DePriest. I have sessioned and played a gig or two with Mario and can vouch for the fact that he is as good as any singer alive. Akbar played with Roland Kirk, Eddie Harris, and a ton of other greats including John Coltrane. He made a huge contribution to the local jazz education community. He will also be greatly missed.
Hopefully, I won't have to leave the Portland area again soon. The CD is still "almost" finished (I think that I've said that before!).
---
Posted: April 30, 2007
After two weeks at the Pirate's Tavern the Monday night audience is increasing and it looks like we may have a steady gig! The Pirate's Tavern is actually a very nice vegan restaurant in an improbable location (in the industrial area of NW Portland). With a cheerful, supportive staff we feel that this is a pleasant alternative to our regular Monday night rehearsals in Cal's basement. Unfortunately, I have to travel out of town next week and we will miss next Monday's, May 7 gig.
I believe that the CD is finally ready to go to the replicators this week!!! It's been a longer time than I had planned but this part of the process will soon be ending. I'll keep you posted.
---
Posted: April 10, 2007
I just returned from previewing the artwork for the next CD, Better Late, and am very happy with the results. Angela Gonzales did a terrific job of laying out the text and making everything look professional. I believe that you'll be impressed when the CD is released.
The recording is about done now (finally), I just have to visit the Harry Fox Agency web site and arrange to pay the mechanical royalties for the songs that were covered in this recording. There are six originals and five cover tunes on the CD. On the second most-recent test pressing I forgot to include one of the songs, fortunately Peter Schwimmer caught the oversight and brought it to my attention before it became a major mistake. Thank you Peter. If everyone in the band signs off on the most recent version then I should be taking the materials over to Dungeon Replications later this week. Let the games begin...
Kathleen and I returned from Ireland and Scotland last week. Tons of castles to see. Way more than you'll see in the USA. We trekked through those countries and had a great time. Almost no rain during the entire two weeks! Amazing. Since I didn't want to try driving on the left hand side of the road we wound up taking the bus, light rail, the train, a ferry boat, cabs, and passed through six airports each way. It was a lot of hustling but we made it and really enjoyed ourselves. We also did a lot of walking. I was amazed at how much it helped my trumpet playing when we returned to home. After not practicing for two weeks (normally a recipe for disaster on a brass instrument) everything felt great when I sat in at the Monday night Ron Steen jam session at the Produce Row Cafe. I had a trumpet teacher (John Quist) who once told me that playing trumpet was like digging ditches. I guess that he was right!
---
Posted: March 17, 2007
I am finally finishing up the post-production work on the quintet's second CD, Better Late. It's been a lot of work and time, I've been applying some new techniques that I've learned lately and feel that the sound quality is moving up a notch from earlier efforts. As soon as I get back from a two week vacation I'll be burning a last round of test CDs for the band. If everybody feels ok with that, and the artwork is finished, it will be off to the replicators for copies. When I have the finished product I'll be posting some mp3s to this website. The CD will also be available on CD Baby.
Kathleen and I are heading to Ireland next week for a two week vacation. We've never been there before and we're looking forward to the change of scenery. I'm not Irish but it sounds like an exciting place. By going this time of year we should be beating some of the summertime mobs. I'll miss the Monday night quintet rehearsals and the Monday night jam sessions at Produce Row but there'll be plenty of time to catch up when we return. I'll be checking email from overseas if you want to keep in touch. I'll also post a few pictures here when we return. Take care.
---
Posted: February 27, 2007
The band played Saturday (2/24) at Produce Row. Peter Schwimmer (guitar) was not available that night so we played without a guitar. It was easier than trying to get somebody new in to read the arrangements. All things considered, it went quite well and there were no "train wrecks" from rude surprises. It's comforting to know that we can adapt as a group and survive the absence of someone who's been with the band since day one.
Now that the last tracks for the second CD have been recorded I have been working to finish the mixing and editing of the songs. I have also hired a graphics artist, Angela Gonzales, to do the artwork for the CD. That is a relief for me as I was not making any progress with the packaging. At one point I had grandiose plans for doing the artwork myself but reality reared its ugly head.
Peter put a lot of effort into mixing and editing the songs and I am on schedule to complete that task by the end of this week. Famous last words. At this rate, we may be able to have CD's ready to sell by the end of March. This is complicated by the fact that Kathleen and I are going on vacation in mid-March.
---
Posted: January 28, 2007
The quintet returned to Walter Midi Studio yesterday afternoon to re-record three songs for the new CD. After listening to the results from the previous sessions we decided that we should redo several of the songs. The results justified the efforts and the takes that we got were better than what we had done before. I think we'll have a better product as a result.
I am also finishing up the mastering process on a new CD of original material. The project has been bubbling in the background for a couple of years and it's gratifying to see it finally near conclusion. I should have it posted on CD Baby soon and have a few clips available for download on this web site. I'll keep you posted.
---
Posted: December 27, 2006
Last Saturday's gig at Produce Row Cafe went very well. Considering that we were playing two days before Christmas, I was amazed that anybody showed up! In the past I've played dates right before Christmas where the bartender didn't bother to show up!
We introduced a couple of new tunes at that time, Patrick Nearing now has a feature song with Benny Golson's "I Remember Clifford". Listening to Lee Morgan play it in the video clip (referenced below) got me excited about doing that song. The audience was very responsive and I think that it will be a staple in the band's song book.
I am setting a goal for the coming year to add at least two more nightclubs to our "circuit". I'll keep you posted as I talk to more folks and we broaden our horizons.
I hope that everybody has a great New Year and 2007 exceeds 2006 in accomplishments.
---
Posted: December 5, 2006
I just found these links on youtube.com for Lee Morgan playing "I Remember Clifford" with Art Blakey and the Jazz Messengers (Benny Golson on tenor sax). It's an amazingly musical performance by one of the greatest jazz trumpet players who ever lived. Also, another favorite of mine, Miles Davis playing "So What" with John Coltrane, Wynton Kelly, Paul Chambers, and Jimmy Cobb.
Both of these performances are timeless and deserve to be seen by the world. It's a shame that US television never provided much, if any, coverage of these giants.
---
Posted: November 22, 2006
Last Saturday's gig at Produce Row Cafe was a lot of fun. The band continues to improve and the audiences continue to grow. Two very nice trends! We're even beginning to make light work of moving the Hammond organ.
During our early engagements I was using a portable Hammond XK-2 organ and it was really easy to move into and out of nightclubs. Lately I've been playing my Hammond A-100 (a B-3 in a different cabinet). It's a joy to play it but a challenge to move.
The CD project is moving along, the editing is almost complete and the mixing of the tracks is progressing. The cover art is the next big project. Hopefully that will be done soon.
One more step is the securing of mechanical licenses for the cover tunes that we recorded. This involves paying the song publishers royalty fees. That task can be surprisingly difficult, even in the age of the internet. On the last CD that proved to be a challenge with some of the songs. At the rate that this is moving we may actually complete this part of the project ahead of schedule.
I'll let you know what's happening as we reach our milestones. In the meantime, I hope that you have a great Thanksgiving. Kathleen and I became grandparents again several days ago. A beautiful granddaughter named Emma. We welcome her to the family. I hope that she likes music!
---
Posted: November 11, 2006
We (the quintet) spent all of last weekend in the studio recording tracks for our next CD. The tentative title will be "Better Late". The title is the name of one of the original songs and a reference to the fact that I got a late start with my recording "career".
After the dust settled, we had twelve songs done. We were recording at Walter Midi Recording in Portland, OR. We chose this facility because they have their own Hammond B-3 organ, a large main studio that allowed us to play without wearing headphones, and the very experienced services of their owner, Jon Lemmon. It is also a Pro Tools equipped facility so I can take the audio files home and assemble them into the final product.
All the band members, Patrick, Cal, Peter, Kenny, and I rose to the occasion and braved a "live" recording session with no possibility of overdubs to create "perfect" solos. I feel that we got a classic east-coast Blue Note records sound and vibe. I hope that the public likes it. We sure put a lot of work and heart into it.
I expect to have the CD completely finished, replicated, and distributed for review by the end of the first quarter of 2007. That's a worst case estimate because I've never been very good at guessing how long a project should take to complete.
It's my birthday today and I'm a veteran so I'm going to take the day off. I'll update the site here as to progress with the CD. Have a nice day.
---
Posted: October 18, 2006
It's definitely not summertime anymore in the Portland, OR area! When the days get shorter and darker it seems to take more effort to get things done. I can understand why bears like to hibernate.
Since hibernation is not a viable option I am choosing to keep moving forward with the band's second recording project. We are closer to the first weekend in November when we will be in the studio. Everything is feeling solid and we are all feeling confident about the outcome of the project. At this time it looks like it will be ready for release in Q1 of 2007. Soon after that I will be putting another project out on the Moovealong label, unreleased songs from a few years ago. Take care.
---
Posted: October 8, 2006
I've been spending a lot of time lately composing some orchestral pieces. Now that I've got a tool for actually hearing what I've written (Finale 2007) it's been hard to not write! Between that and the upcoming recording sessions for the quintet's upcoming second CD it's been busy. We have decided on the tunes that we are going to record and have been spending our rehearsal time on tightening everything up.
I survived the layoffs at the large technology company that I work for, during the past twenty plus years that I've spent in high tech I have been through 22 layoffs, three times where I lost my job. As my grandmother used to say, "It's a great life if you don't weaken". She was right.
---
Posted: September 19, 2006
Saturday night's gig at Produce Row was a lot of fun! The band sounded very good and, aside from a communal hiccup or two, played well together. For a Portland engagement in mid-September it was well attended. I talked with the manager and we will be returning in October.
We have booked studio time during the first week in November to record our second quintet CD. There's a lot of new material so we just have to decide what to record and what to leave out. That can be a hard decision but it's a nice feeling to know that there is too much to record and not enough time. I've certainly had worse problems to face.
If all goes as planned, the recording should be finished in January or so. We are not in a hurry and we have the luxury of time on our sides. Please stay tuned.
---
Posted: September 10, 2006
I found a terrific new product for composers called Finale 2007. It's a music notation program that can play back what you write as actual musical sounds. While this will never replace an orchestra of real musicians it is an exciting tool. It's a musician's ultimate instant gratification toy.
The past few weeks have been spent writing new works for orchestra and I apologize for not updating the website during this time. The quintet is also ready to return to the recording studio. It's just a matter of synchronizing everybody's schedules and finding a few days free. Easier said than done. I'll keep you posted.
---
Posted: August 17, 2006
Last week's gig at Jax (our first at that venue) was well received. We were told to expect to be returning soon and often. Jax is a friendly place in downtown Portland, not far from the Saturday Market.
Last weekend Kathleen and I ventured up to Seattle again. We attended a NARAS (National Academy of Recording Arts and Sciences) picnic. We met some very interesting music industry folks and had a great time. I traded CDs with producer Richard Werth, from the Seattle area, and spoke at length with him and singer/songwriter Gretchen Christopher ("Come Softly To Me", and "Sweet Sixteen", both gold records). Gretchen is finishing up a new CD, her first in quite awhile. Richard and his group are about to release another CD of mediation music. It's fascinating listening material under the title of the World Meditation Ensemble. I really enjoyed it. The three of us had a great time trading ideas and experiences and I believe that we all walked away more knowledgeable than before.
If you are interested in the music industry then I would recommend looking into NARAS. They provide a lot of industry information and networking opportunities.
---
Posted: August 6, 2006
Last night's performance at Produce Row was very well received. The band sounded stronger than ever. Band members are really stepping up to the plate! We added six new songs to the set list and that made everything else sound fresher and kept everyone's attention focused.
After playing a portable Hammond (XK-2 to be specific) I decided to bite the bullet and bring my full-sized A-100 to the gig. That's it on the main page of this website. I even rented a trailer to move it. After loading and unloading the beast I was beginning to have second thoughts about the wisdom of my move. However, once the dust settled and the band started playing it became immediately apparent why Hammond organs are still in demand, 30 years after the last of the breed rolled off the assembly line. It was a ball to play and the other folks in the group immediately noticed the difference in the sound. The audience was much more attentive also. I guess that I'm back in the furniture moving business.
We will be returning to the recording studio within the next two months and will be recording our second CD. We've got a lot of strong new material ready to go. I'll keep you posted on the project.
---
Posted: August 5, 2006
For the first time in several years I dragged the guitar out and played in public. The Aloha/Hillsboro Sunrise Rotary group (of which my wife is a member) was putting on an art show to raise money for the local boy's home (juvenile hall). It's certainly a worthy cause as they have a much lower recidivism rate than other facilities. I volunteered to provide background music. It was fun to play guitar again. In my attempts to keep up on the Hammond and the flugelhorn the guitar often gets left behind. I am planning to do more work on the guitar later this year. Now that the quintet is starting to work I'll have more time and energy for the guitar.
---
Posted: July 9, 2006
I just returned from my show at the Temeculah Valley International Jazz Festival on Saturday (7/8). Temeculah is in the California desert southeast of Los Angeles. I had a great time performing with Blake White on guitar and Mike Bennett on drums. Check out Mike's very hip web site!
The big name drummer who was supposed to play the set never showed up and Blake White's friend Mike Bennett was kind enough to fill in with no rehearsal and no time to spare! They both did a terrific job of playing my original songs (which they had never heard) and two obscure jazz standards. The show was well received.
Everybody that I met was very nice and laid back. My kind of folks. I'd like to thank Dick Guthery, a volunteer with the festival. He did a lot of driving getting me to and from the airport and was a very gracious host. It has become obvious to me lately that jazz is surviving because of the musicians and all of the wonderful people who donate their time to keep the music alive.
The local jazz radio station, KMHD has only a few paid staffers, no one else is paid. Because of this support they are able to broadcast jazz on a 24/7 basis. Thank you to all of the volunteers! Everywhere.
---
Posted: June 16, 2006
The CD is now on 78 radio stations across the country. I just received a nice email from Jack Simpson in Florida. He is a jazz d.j. who has been in the industry for over 30 years. He likes the CD and is playing it on his shows in Melbourne, FL and Orlando, FL.
We seem to have picked up a club gig in July and I'm hot on the trail of several more. The band keeps getting better and better. We rehearse almost every Monday night because we love the music. The group creates the feeling of joy each time we get together. I feel very fortunate to have connected with such a terrific group of musicians.
During the past couple of weeks I finally figured out how to set this website up to work with the www.stevehallmusic.com address that I have always wanted. At this time both the www.stevehallmusic.net and www.stevehallmusic.com addresses work correctly (they bring you to this site).
---
Posted: June 11, 2006
Kathleen and I traveled to Spokane, WA over the Memorial Day weekend to visit family and friends. During our visit I wound up sitting in with my friends Steve Maurer and Terri Cooley who were playing at a new restaurant in the Hillyard area. It's called "Ma Barker's" (as I recall) and they had a guest sitting in on the bass clarinet. He was playing the bass lines on the bass clarinet, a very nice sound. The establishment had its own electric piano and I was able to use that. You didn't think that I would drag my Hammond A-100 and Leslie speaker to Spokane did you?
Anyway, Steve was playing guitar and he has really improved since the last time that I heard him! I used to trade guitar lessons to Steve for trumpet lessons for me. It was a win/win deal for us. Terri was playing alto sax and singing. She does both magnificently. Both are major league talents hidden away in the Inland Northwest.
The CD was added to the playlists at KRCC-Colorado Springs, CO and KCAW-Sitka, AK. Both are reporting it in their top ten.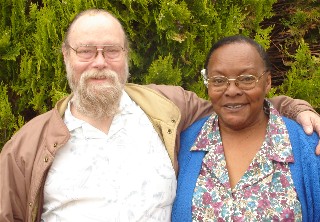 As you may guess, this is a picture of Steve Maurer and Terri Cooley taken during our Memorial Day trip to Spokane, WA.
---
Posted: May 14, 2006
The performance at Produce Row on Friday night was well attended. Many of Kenny Morse and Cal Hudson's friends turned out and a good time was had by all. Here's a picture of the band. From left to right is Peter Schwimmer (guitar), Patrick Nearing (trumpet), Kenny Morse (drums), Cal Hudson (saxophones), and Steve Hall (organ).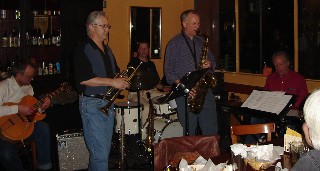 It turns out that I was premature in assuming that radio activity was diminishing for the CD. The recording was added to five more stations playlists during the past week. We are now being played on 71 stations. Mostly PBS and college stations with a lot of activity in the southeast and midwest.
---
Posted: April 25, 2006
I spent the past week in Austin, TX. Austin bills itself as "The live music capital of the world". They may be right.
I was able to hear Cyril Neville's Project 13 band play four songs (outdoors at Threadgill's) before a torrential downpour ended the festivities! They were just getting funkified. On my way back, I heard a good group at the Austin airport. The city is sponsoring live music in the waiting area. What a great idea.
The CD is now on 66 radio stations nationwide. This will probably be the peak of activity. It's been quite an experience.
---
Posted: April 3, 2006
Everything is blooming here in the Portland area and we are sneezing and sniffling like crazy! I love spring but it can certainly come at a cost. Despite the speedbumps I have been writing more songs as the band continues its Monday night rehearsal schedule. Everybody's attitude is terrific and the desire to improve and challenge ourselves continues. We have more that enough material for another CD but I'd like to be able to pick and choose from a big inventory of songs. I am traveling to Austin, TX later this month and look forward to hearing some of their great local musicians.
The CD has been added to the playlist at CJAM-Windsor, ON Canada.
---
Posted: March 22, 2006
After two great weeks in England we're back in sunny Portland, OR. London was a little cold but a very enjoyable place to visit. The people were friendly and it was easy to get around without a car. I was afraid to try driving on the left-hand side of the road. We also spent two days in Syracuse, NY. It was chilly but a nice city.
While we were gone the CD was added to the playlists at CFBX, Camloops, BC, Canada, KKFI-Kansas City, WNMU-FM, Marquette, MI, KMHD-Portland , OR, KKCR, Princeville, HI, WUMR-Memphis, TN, KANU-Kansas Public Radio, WRMR-Cleveland, and WGMC-Syracuse, NY
That totals 57 stations playing the CD now!
---
Posted: March 4, 2006
I will be out of town (London, England) for two weeks and will next be updating the web site after I return. The CD is expected to appear on the JazzWeek chart (for US airplay) within the next week or two.
The Quintet CD has been added to the playlists at the following radio stations: KLCC-Eugene, OR, WGVU-Grand Rapids, MI, KXCV-Maryville, MO, WUSF-Tampa, FL, WUCF-Orlando, FL, WMOT-Murfreesboro (Nashville), TN, KCHO-Chico, CA.
---
The Quintet CD has been added to the playlists at more radio stations including: KRFC-Fort Collins, CO, WRTI-Philadelphia, PA, Georgia Public Radio, KUNC-Greeley, CO, WICR-Indianapolis, WSHA-Raleigh, WSNC-Winston-Salem/Greensboro, WMUB-Oxford, OH, WWVU-Morgantown, WV, WBUL-Tampa, FL, KNTU-Denton, TX, WXTS-Toledo, OH, KTSU-Houston, TX, WAER-Syracuse, NY, and KIPO-Honolulu, HI.
---
Posted: February 17, 2006

The Quintet CD has been added to the playlists at more radio stations including: Radio Adelaide - Australia, KEWU-Spokane, WA, KUAZ-Tucson, KIOS-Omaha, NE, WUWF-Pensacola, FL, Jazz and Blues Tour Radio The Netherlands, WDNA- Miami, FL, KBEM- Minneapolis, MN, KUSD-South Dakota Public Radio, WESM-Princess Anne, MD, KUNV-Las Vegas, NV, WWSP-Stevens Pt, WI, KSJS-San Jose, CA, WRTC-Hartford, CT, KASU-Arkansas State University, WLVE-Ft. Lauderdale/Miami, FL, KVPR-Fresno, CA, KABF-Little Rock, AR, KSDS-San Diego, CA, WLRN-Miami, FL.
---
Posted: February 10, 2006

The Quintet CD has been added to the playlists at radio stations WFCR in Amhearst, MA; WYPR in Baltimore, MD; WBLU in Grand Rapids, MI; KSFR in Santa Fe, NM; KSVY in Sonoma, CA; and KCME in Colorado Springs, CO. We're making some progress. The gig at Produce Row went very well and they have invited us to return in April. The date is yet to be determined. Also, I have finally updated the Downloads page with three mp3 samples from the Quintet CD. This is something that I meant to do a long time ago...
---
Posted: February 4, 2006

I received an email this week telling me that the CD will be reviewed and featured on Listen Here the nationally syndicated radio program featuring Neil Tesser and Mark Ruffin. They said that they weren't certain when the show will air and, alas, it isn't available in the Portland area. I'll be checking out their website for the show. I hope that you can hear it where you live.
---
Posted: January 27, 2006

The CD now has distribution for retail outlets through NorthCountry Distributors in Redwood, NY!
We also have an upcoming performance at Produce Row in Portland on Saturday, February 4. I think that the hours are 9 to midnight.


The radio promotion campaign will start next week. It seems like things are starting to come together.
---
Posted: January 22, 2006

The performance at Borders, Books, and Music went very well. I had no idea what to expect (I've never played an in-store event before). The audience was very appreciative and even stayed for both sets. We were all pleased with the show. I'm sending off press kits for more appearances and we should soon have some more bookings to report. We also just received a nice review from All Music Guide that has been added to the Reviews page.
---
Posted: January 1, 2006

I'm getting ready to distribute the CD nationally and solicit radio airplay. So far, the CD has had local airplay and has been well received. We should have distribution arranged within the next few weeks. It's a big step and a great way to start the new year.
---
Posted: December 8, 2005

I traveled to Seattle, WA last week to attend the year end meeting of The Academy (NARAS), the organization that puts on the Grammy awards every year. The meeting was uplifting and gave me a chance to meet some Seattle jazz community people. I also placed some CDs with record stores in that area.

We also have an in-store appearance booked for Jan. 21 at Borders, Books, and Music in Gresham, OR.
---
Posted: November 15, 2005

More reviews have come in lately. In fact, I decided to add a reviews page to the site and put the latest reviews on that page. Please note that there is now a "Reviews" tab at the top of the page. We have a great new trumpet player in the band. Patrick Nearing has taken over the trumpet position with the quintet. Richard Watson left the band to return to college and finish work on his Bachelor's degree. He will be missed and we all wish him well.
---
Posted: October 30, 2005

In a process that seems to always take more time than expected, CD's have been sent out for review. It's still early but we have received three reviews so far. It will be at least another month before we start to get a more substantial amount of feedback from the jazz community.Reviews
---
Posted: August 9, 2005

After several unexpected delays, the Steve Hall Quintet CDs are done! I will be making them available shortly on cdbaby.com and through this web site. We put a lot of work into making it happen and hope that you enjoy it. Downloadable mp3 samples of some of the songs will also be available soon.

Now that the CD is in finished form I'm pounding the pavement looking for gigs for the group. It feels challenging to move from one stage (rehearsal and recording) to another (performance). It's always an uphill swim being the new guys on the block but I believe very strongly in the group.

Although the quintet hasn't been working lately it has been busy. I've been studying organ with George Mitchell for the past several months. George has been with Dianna Ross for more than twenty years and is a terrific teacher. I've been working on the jazz repertoire and basics such as fingerings and practice techniques and feel more confident about the technical side of the Hammond organ.
---
Posted: May 5, 2005

We're moving along with the CD project. The songs have been mastered (Freq Mastering and Super Digital) and the artwork (Tracy Klas) is complete. I met with the CD manufacturer, Dungeon Replicating, and we should be receiving our CDs at the end of May. In the meantime I'll be looking at proofs on Monday, May 9.

Ryan Foster at Freq Mastering did a great job at finishing off the sound of the songs. He then put them in the correct order and made sure that the sound was consistent from track to track. This is specialized work that takes specialized ears and equipment. He was very complimentary about our work and has done projects for major artists (including Gino Vanelli and Dr. Lonnie Smith) so I was really encouraged.

While that was being done, Tracy Klas was working on the CD artwork. She is a very talented vocalist and graphics designer. Tracy has designed CD covers for many Portland area projects. We will soon be posting examples of the art on the site and I'm sure that you'll agree that it looks great.

Now that the project is in the capable hands of Mike at Dungeon Replicating we just have to sit back and wait. I'll be able to get back to several hours a day of organ practice and song writing. We've got enough new material cued up for another CD but that will have to wait for awhile. There's also a lot of paperwork to complete in the meantime.

The next step will be to send out copies of the CD for review and get ready to take the good with the not-so-good. That should be an experience in itself.

Stay tuned.
---
Posted: April 5, 2005

We've been busily assembling the parts needed to complete the band's first CD. After recording the music there were a few little parts to touch up. While we were in the studio we recorded seven original songs and five cover tunes in a period of three evenings. The band members felt good about the songs and their solos.

Now that the music is (pretty much) done the next step is to have a graphics artist design and lay out the artwork for the CD cover and insert pages. I met with Tracy Klas, a Portland area artist (and singer) who has designed many CD covers in the past few years. Tracy came up with a preliminary design that looks terrific and effectively captures the mood of the music. I'd put it on the website but I don't want to spoil the surprise. Stay tuned!

Once the order of the songs has been determined, and the songwriter royalties paid, I have to write a few words to put in the artwork and make sure that everybody's name is spelled correctly.

In the next few weeks I'll be taking the finished mixes to Freq, a terrific local mastering facility. Freq will polish off the sound of the final mixed songs and be the last step before the CD replication process begins. I worked with Freq last year on a project that turned out very well.

If everything goes as planned, we will have a finished product (actually lots of them) by the end of May. In the meantime, thanks for your patience.
---
Posted: March 15, 2005

All went smoothly at the recording studio (Dave's Attic) where owner/engineer Dave Fleschner did a very good job of recording the band over a period of three nights.
---
Posted: December 9, 2004

A suite in three movements (plus a brief overture) is nearing completion. The three movements and overture are recorded and have a few overdubs left before being ready to mix. The work utilizes a woodwind quartet (two flutes, clarinet and bass clarinet) as well as Hammond organ, solo flugelhorn, guitar, drums, and a small brass section. The suite is a tribute to the legendary trumpet player Freddie Webster. The extended work is part of a CD of my compositions that will be released in mid 2006. The other songs range from some Hammond organ-based blues to several gospel-flavored songs, a bossa nova, and a slow latin piece. The songs alternately feature organ, guitar, and flugelhorn. They cover a lot of stylistic ground.
---
Posted: November 7, 2004

Richard Watson has filled the trumpet vacancy left by the departure of Hakim Allowana. Richard is a Texas transplant and brings a lot of strengths to the band. He is a welcome addition. With the trumpet chair filled the quintet is back to working on its first CD. Expect a release in spring of 2005.
---
Posted: November 1, 2004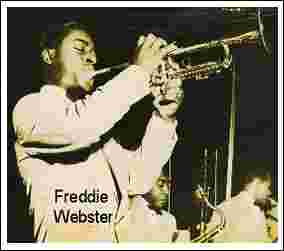 Freddie Webster was a friend of my uncle Charles Hall and was the subject of many conversations with Charlie. Freddie left very few recordings behind before his untimely death in 1947 at the age of 30. He influenced many jazz giants such as Miles Davis and Dizzy Gillespie. He was a trumpet player's trumpet player. This is one of the few photos of Freddie and it was a prized possession of Charlie.
Here is a rare recording of Freddie featured with the Jimmy Lunceford Orchestra circa 1944. Yesterdays. Amazing tone and facility on the trumpet.
---